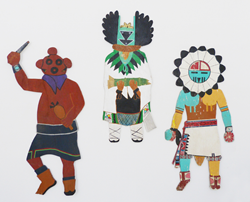 The genesis of the show began with a collection of Gallup inter-tribal ceremonial screen prints, designed by important Native American artists from the thirties and forties, to advertise the renowned Gallup art show. -Jamie Way, Director
Santa Fe, New Mexico (PRWEB) June 25, 2015
Shiprock Santa Fe gallery the nation's premier destination for authentic Native American textiles, jewelry, and collectibles; is pleased to announce the opening of Native Art in Advertising exhibition beginning July 1, 2015. The collection of iconic Native American imagery conveyed in signage, weavings, and artworks dates from 1920—1950. A public reception celebrating the exhibition and the opening of Santa Fe's International Folk Art Market will be held on Thursday, July 9 from 5-7pm.
Shiprock Santa Fe is the inaugural sponsor of the Downtown Business Partners Initiative, a group of ten downtown businesses formed to lend local support to the International Folk Art Alliance. On July 9, The International Folk Art Alliance will host a walking tour of downtown Santa Fe and participants of the walk are invited to visit the Native Art in Advertising reception at the Shiprock gallery.
The commercialization of Native American iconography in advertising began in the late nineteenth century when using "Indians" as romantic symbols of freedom and exoticism was adopted by manufacturers of diverse products. The Shiprock Collection is a mix of Native American designed images from the period and advertising appropriations. "All of the imagery is tasteful," remarks Gallery Director, Jamie Way "you won't find any Redskin's jerseys here!"
"The genesis of the show began with a collection of Gallup inter-tribal ceremonial screen prints, designed by important Native American artists from the thirties and forties, to advertise the renowned Gallup art show," explains Director Jamie Way. Original screen prints designed by famous Native artists Alan Houser and Fred Kabotie are on view side-by-side original Navajo Express signage advertising the long-haul trucking company.
Native American Art in Advertising showcases examples of Native American art in advertising from both Native and non-native perspectives. Each piece selected for this exhibition was used as promotional material; for shows featuring Native American art and jewelry, as road signs on reservation lands, as powwow posters, as well as pieces manufactured for various corporations. Native Art in Advertising is on view at Shiprock Santa Fe gallery through July 31, 2015.
For press inquiries, contact:
Audrey N Rubinstein
JLH Media
505 490 1837
audrey(at)jlhmedia(dot)com
###
About Shiprock Santa Fe Gallery
Founded in 2006, Shiprock Santa Fe gallery is the capstone creation for fifth generation trading post owner Jed Foutz. Raised on the Navajo Reservation, Foutz has a studied eye and impeccable aesthetic that gives Shiprock Santa Fe both a vintage and modern appeal that attracts top fashion buyers, designers, filmmakers, and renowned art collectors. Mixing Mid Century Modern design with antique and contemporary Native art, Shiprock Santa Fe gallery has become a resource for internationally known artists and designers. The gallery features a considerable inventory of historic Navajo textiles and turn of the century silver and turquoise jewelry, as well as the work of some of the most well known artists in contemporary Native art. Foutz has carefully cultivated a collection of pieces ranging from vintage furnishings by George Nakashima, vintage and contemporary pottery, basketry, fine art, and eclectic finds from Jed's world travels. Shiprock Santa Fe's knowledgeable staff is well versed in the material and provides both acquisition and appraisal services, working with clients looking to acquire a single collectible or build corporate or personal collections. For more information, please visit shiprocksantafe.com.