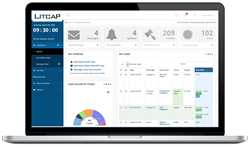 The LitCap Platform is a game changer
Houston, TX (PRWEB) June 29, 2015
With more than $235 million in case financing since launch, LitCap has quickly become one of the top sources for attorney financing. Today LitCap announced additional products and services via the LitCap Marketplace which connects attorneys with qualified lenders to facilitate law firm financing and attorney case cost expense financing.
"This release completely revamps our platform making it easier to use with more flexibility along with a broader portfolio of products for our attorney members," commented Britton J. Holland, COO and President of LitCap. "Our number one mission is to provide our attorney users with easy and convenient access to funding and financial tools to more efficiently manage their law practice."
In early 2015, the company expanded its suite of products, specifically tailored to attorneys and law firms, to include business expense financing, which extends the range of loans beyond funding case costs and expenses. This new product includes contingent and non-recourse financing for attorneys for their general business expenses and costs to build their practice.
Membership is free to qualified lawyers.
LitCap 4.0 includes technology that significantly enhances the User Experience and Interface for both lenders and attorneys, which improves LitCap's capability to facilitate the attorney financing process.
The upgraded platform aims to provide members with an improved user experience and compresses the time from case listing to case funding. The UX is designed to make it simple for attorneys to log onto the LitCap Platform from any device to list their cases and receive funding. The upgraded platform was designed to facilitate attorney financing on a case-by-case basis and uses a Dashboard-centric approach which features enhanced mouse-over capabilities and other modern design techniques such as Responsive Design User Interface (UI). The difference in the updated UX means enhanced reporting for investors and better streamlined workflow for attorneys.
"The LitCap Platform is a game changer," remarked Harris Junell of Junell & Associates out of Houston, Texas. "We been using LitCap since 2013, when they first launched, and it has to systematically grow our practice and improve our effectiveness."
Watch a virtual tour of the only online attorney financing marketplace now at:
http://www.litcap.com/pr/ 
"Our Members tell us they wish they had known about the LitCap Marketplace sooner," commented Hugh J. Plummer, Jr, CEO and Managing Director of LitCap. Mr. Plummer further commented, "Lawyers have been financing their contingent cases the same way for decades, just as it was done when Abraham Lincoln was trying cases, before the telegram, before the car, and before electricity or the internet. Having a platform that mitigates the ability for the big guy to outspend the little guy in litigation, truly brings balance to our civil justice system in the United States. It circumvents the inherent conflict of interest between a lawyer and his contingent client and directly benefits the State Bar IOLTA program in every state where LitCap is used. We believe that LitCap is to case cost financing what Westlaw and Lexis Nexus were to legal research."
About LitCap:
LitCap is the exclusive marketplace for preeminent attorneys to obtain financing to better manage their practice.
Take control of your financing today and contact Aubree Feldmann at LitCap:
Tel: (713) 946-6464 | Fax: (713) 520-0160 | aubree(at)litcap(dot)net