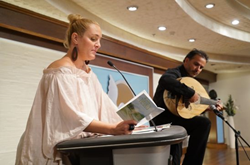 a being is only as valuable as he can serve others
Los Angeles, CA (PRWEB) June 25, 2015
Sharing the stage at the Scientology Center of Tel Aviv auditorium, educators, a journalist, a reform rabbi, a leader of the Sudanese-Israeli community, and community activists all joined to discuss today's threats to our environment and our responsibilities to commit to helping fight the problem.
"Safeguard and Improve Your Environment" was the theme of the June 5 event, taken from precept 12 of L. Ron Hubbard's The Way to Happiness. The precept was introduced by a reading accompanied by music and a public service announcement, setting the stage for the forum in which panelists spoke of how they raise environmental awareness in their communities, their students and colleagues.
The Center staff presented 11 men and women with commendations for their outstanding work in the community, and guests were invited to network with one another and tour the Center's Public Information Center to learn more about The Way to Happiness and the many ways community leaders from around the world have used its precepts to bring about positive social change. Mr. Hubbard's book provides a moral code people of all faiths, cultures and creeds can embrace to uplift the culture and reverse the moral decay of society.
The Scientology Center of Tel Aviv is an Ideal Scientology Organization. Its facilities, opened in August 2012 in the beautifully refurbished Alhambra Theater in the ancient port city of Jaffa, are configured to service Scientologists in their ascent to spiritual freedom and serve as a home for the entire community—a meeting ground of cooperative effort to uplift citizens of all denominations.
Inspired by the words of L. Ron Hubbard, Founder of the Scientology religion, that "a being is only as valuable as he can serve others," Scientologists wholeheartedly support the distribution of The Way to Happiness. Participation and collaboration in this and other Scientology-supported humanitarian initiatives and social betterment programs is invited and welcomed from all who seek to improve conditions for themselves and others.
For more information, visit the Scientology website at http://www.scientology.org/how-we-help/way-to-happiness.html