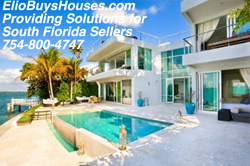 Our best form of marketing is by simply treating our sellers with respect and fairness....it's just the right thing to do!
Miami, Florida (PRWEB) July 13, 2015
South Florida continue to experience Housing Crisis with Skyrocketing Foreclosure Rates
The founder of LIEN Property Solutions, LLC Elio Avrilien has been helping South Florida homeowners avoid the painful process of foreclosure for more than five years. Recently the South Florida market for houses has been flooded with significantly under-priced homes. The foreclosure rates in South Florida steadily increases with greater number of individuals currently suffering from the huge impact of the present housing crisis. In fact, the state has the highest percentage of people who are affected negatively by the ongoing issue. Miami neighborhood homeowners are still struggling to make ends meet or get out from under lenders that are threatening to foreclose on their homes. This leaves many people asking themselves, should we buy houses?
With this growing predicament in the country, the experts in the housing industry are now recommending that every potential owner who is missing or had been late in paying mortgage obligation become aware of the foreclosure process as well as laws in South Florida. This task can be monumental to homeowners who are facing stressful levels of financial hardship. The burst of the housing "bubble" still has the nation's economy struggling to recover and fewer people who feel it's best if we buy houses. South Florida homeowners find themselves "underwater" when it comes to the value to debt ratio of their home at a higher percentage rate than those who own homes in most other states.
In June 2015, RealtyTrac,Inc., reported there were foreclosure filings including scheduled auctions, default notices and bank possessions with an exact number of 126,868 US properties. Hence, this has indicated 1% increase compared to the previous months and 16% increase from last year to 19-month up. Due to 63% REO annual increase, the general foreclosure activity within South Florida has increased by 4% from last month and skyrocketed to 7% compared to May 2014. Thus, the rate of foreclosure in this state ranked on the number one spot for this month with 1 foreclosure filing out of 409 housing units. This goes for the entire housing units in Florida. Many people in South Florida feel that the need to announce that the State's motto should still be that "We buy houses South Florida." South Florida residents want to be able to feel safe in following that long-term investment plan.
A couple of years ago, President Obama announced a proposal to lower lending rates, reported by the New York Daily News, making it possible for millions of borrowers who have not been able to get out from under bloated mortgages to refinance their homes. This plan also proposes to offer hope to those who want to afford to purchase a home. Many agree with Obama who stated that: "It is wrong for anyone to suggest that the only option for struggling homeowners is to sit and wait for the market to hit bottom." Many people are thinking, "Why should we buy houses?" South Florida is no different.
Apparently, the foreclosure activity happening in this state reflects national trend in terms of foreclosure hikes. This is significantly due to home and property bank possessions. So, LIEN's initiative is aimed to help home owners face these challenges with essential knowledge of this ongoing housing crisis.
The company LIEN Property Solutions, LLC sponsors highly educated, locally focused team members who care about your family and have years of expertise, dealing with avoiding foreclosure. Rather than sit and wait for someone to spontaneously buy houses in your area, this company has been able to reduce any hassle related to timelines or extemporaneous costs required by a Realtor. They understand how much is at stake for you as a homeowner. The company, LIEN Property Solutions, LLC adheres to the same standards as the Better Business Bureau. Their message that they are trying to get out is that "we buy houses Miami!" and their commit to bringing South Florida home sellers solutions to their foreclosure problem in writing with no hidden fees or commissions required. Contact Elio Avrilien for further information via email at ElioBuysHouses(at)gmail(dot)com or call to speak directly with Elio at 754-800-4747. Or visit them at http://www.eliobuyshouses.com