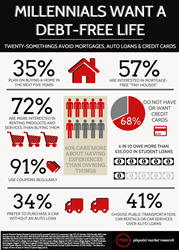 "I was 14 in 2009. I didn't understand why we lost the house because my parents still had jobs. But, now I get it and I'm not going to let that happen to me." - Andrew, 21
Atlanta, GA (PRWEB) June 29, 2015
Pinpoint Market Research and Anderson Jones PR today released a study showing that "twenty-somethings" want to lead debt-free lives as they eschew credit cards, car loans and mortgages. The market research company surveyed 1,650 men and women aged twenty to twenty-nine in the U.S. about spending and saving habits, purchasing preferences, financial planning and investment plans.
"Millennials are expected to spend more than $200 billion annually beginning in 2017 and $10 trillion throughout their lifetimes. How they plan to spend, however, is distinctly different than previous generations," said Jennifer Jones-Mitchell, chief insights officer for Pinpoint Market Research and head of global marketing for Anderson Jones PR. "In fact, their view on personal finances sounds more like the Boomer generation emerging from the Great Depression than the "entitlement" label they keep hearing."

Although thirty-five percent plan to buy a home in the next five years, fifty-four percent want mortgage-free "tiny houses"
Sixty-eight percent do not have or want credit cards; they prefer to use check/debit cards and cash
Thirty-four percent prefer to purchase used cars with cash, versus securing an auto loan
Forty-one percent choose public transportation, car rentals or car services like Uber over auto loans
Ninety-one percent say they regularly shop "discount days" and use coupons and mobile deal apps
Thirty-eight percent seek and share discounts and deals with friends through social networks
Sixty-two percent say the main reason they follow brands online is to take advantage of exclusive offers
Seventy-two percent prefer to rent products and services as opposed to buying them
Thirty-nine percent have already invested in a 401k or a personal IRA
Fifty-seven percent currently owe student loan debt greater than $35,000
"These kids were teens when they watched their parents lose everything in the 2008 financial crisis," Jones-Mitchell added. "Their coming of age is marked by fear and uncertainty. So, they plan to take control of their personal finances and avoid debt. As brands market to millennials, they should consider focusing on deals, discounts and strategies that speak to this segment's concerns about financial planning and security."
The full Millennial Mindset Study covers twenty-somethings' brand preferences, technology preferences, what they want from employers and colleges and their overall views on corporate citizenship. To view the full report, visit Pinpoint Market Research.
Pinpoint Market Research and Anderson Jones PR surveyed 1,650 U.S. consumers through in-person interviews, online surveys, focus groups and social listening. Age: 20-29. Gender: 54% female; 46% male. Annual income: 5% <$10,000; 19% $10,000-$29,999; 16% $25,000-$49,999; 26% %40,000-$74,999; 32% $75,000-$99,999; 8% $100,000-$124,999; 1% $125,000-$149,999; 1% $150,000-$174,000. Education Level: 8.33% High School or GED; 8.33% some college, but no degree; 29.17% 2-year college degree; 40.28% 4-year college degree; 13.89% Graduate-level degree. Region: 5.21% New England; 9.38% Middle Atlantic; 12.50% East North Central; 9.38% West North Central; 10.42% South Atlantic; 5.21% East South Central; 7.29 West South Central; 9.38% Mountain; 31.25% Pacific.
About Pinpoint Market Research:
Atlanta-based Pinpoint Market Research is more than just a research company. We are strategists who translate intelligent insights into actionable marketing plans. We specialize in Digital and Customer Personas; Competitive Matrix Reporting; Brand Identity IQ; Customer Journey Mapping; Messaging Audits and Strategies; Surveys, Polling and Focus Groups. http://www.pinpointmarketresearch.com
About Anderson Jones PR:
Anderson Jones PR is a full-service public relations, marketing and social media engagement agency that focuses on delivering big agency thinking at boutique agency pricing. We specialize in brand development, traditional media relations and media training, social media engagement, content marketing and crisis communications. http://www.andersonjonespr.com