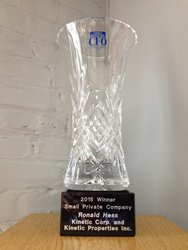 Ron's international finance expertise is vital to what we do here at Kinetic
Louisville, Kentucky (PRWEB) June 25, 2015
Kinetic theTechnologyAgency, a global leader in translation management systems and services, announced today that its Chief Financial Officer, Ronald Hess, CPA, CMA, was honored with the 2015 CFO of the Year Award by Business First Louisville.
Ronald began working at Kinetic in 2013, after an illustrious career at Figgie International and FireKing Security Group.
Ronald received his Master of Business Administration in Finance and Accounting from Indiana University in Bloomington, Indiana, before beginning his career at Figgie International, a large international manufacturing company, where he managed all finance and accounting for plants and operations in the United Kingdom, Sweden, Australia, and Germany.
Ronald was hired at FireKing Security Group in 1996 as a Corporate Controller, and went on to become Vice President of Finance in 2002.
Ronald's experience in international finance is what stood out about him during the hiring process.
"Ron's international finance expertise is vital to what we do here at Kinetic, and hiring him was a no-brainer" said Ray Schuhmann, Founder and CEO of Kinetic theTechnologyAgency. "His work ethic and experience speak for themselves and we look forward to seeing Ron here for many years to come."
"It's an absolute pleasure working here at Kinetic. The Kinetic team is like a family and we're excited to see what's in store over the next several years," said Ronald Hess, CFO of Kinetic theTechnologyAgency.
The Business First Louisville CFO of the Year Awards were separated into several distinct categories: very large private company, large private company, large public company, medium private company, small private company and small public company. Ronald was given the CFO of the Year Award in the small private company category.
The awards ceremony took place today at the Cascade Ballroom in the Kentucky International Convention Center.
About Kinetic theTechnologyAgency
Kinetic theTechnologyAgency provides the world's only true globalization platform working exclusively on the translation buyer's behalf to significantly reduce translation expense, while improving translation quality and accelerating time to global markets. Kinetic's proprietary technologies provide an integrated system for content and translation management, publishing, personalization and delivery to generate global sales revenue faster while simultaneously reducing the complexity and expense of going international.