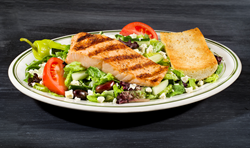 Loyal customers are the cornerstone of Sea Island's success, said Barclay Anthony, Sea Island CEO.
San Antonio, TX (PRWEB) June 26, 2015
Sea Island Shrimp House, known for serving the highest quality, affordable seafood in San Antonio, takes pride in serving only wild-caught Texas Gulf shrimp and seafood, featured in such notable entrées as World-Famous Charbroiled Shrimp and Lemon Pepper Fish and Shrimp.
Now at the half-century mark, Sea Island is expanding its menu to cultivate the newest generation of guests. The "Fresh at 50!" menu combines a wonderful selection of traditional Sea Island tastes, with new and distinctive flavors, such as:
Alaskan Crab Legs—1/2 pound of sweet, meaty Alaskan Bairdi crab legs
Bacon Mac & Cheese—whole grain macaroni with cheese, crispy bacon and panko topping
Bering Sea Catch—pan seared whitefish topped with Bairdi crabmeat and a jumbo shrimp with a fresh butter cream sauce
Chicken Skewer Salad—two skewers of seasoned grilled chicken atop a large Greek Salad
Chipotle Crusted Fish—pan seared whitefish with a crispy chipotle crust
Grilled Salmon Salad—grilled Atlantic salmon filet on a large Greek salad
Grilled Skewer Trio—bacon-wrapped brochette shrimp, grilled chicken skewer and a mini beef kabob on a bed of confetti rice with seasonal vegetables.
During the entire month of July, 50 cents from every "Fresh at 50!" menu item purchased will be donated to the San Antonio Food Bank.
In addition to the food bank promotion, Sea Island will host a vintage car display at its Rector Street location on Sunday, July 5th at 10 am. A handful of classic cars from 1965 will be exhibited in the front parking lot, allowing guests to get a photo with their favorite vehicle and reminisce with local antique car enthusiasts. Lemonade and skewered shrimp will be available for purchase.
Fifty years ago, the restaurant began from humble roots at its original location on Rector St. where husband and wife team Dan and Chrissy Anthony, with friend Henry Reed, began serving the highest quality Gulf seafood at affordable prices. Today the company employs over 400 people at six San Antonio locations and hosts two million guests a year.
For Facebook followers, the company is giving away monthly gifts such as gift baskets, Sea Island spices, condiments, apparel, gift certificates and more. To Like Sea Island on Facebook, go to https://www.facebook.com/SeaIslandSA
Sea Island Shrimp House and Tiago's Cabo Grille are restaurant brands of Sea Island Development Company, headquartered in San Antonio, Texas. The restaurants feature a wide variety of fresh wild-caught Texas Gulf shrimp and fish entrées, salads, appetizers, beer and wine, and offer patio dining and outdoor playscapes for children. More at http://www.shrimphouse.com.