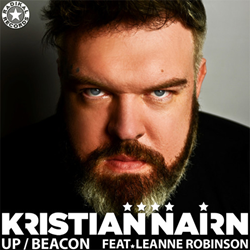 New York, NY (PRWEB) June 26, 2015
Renowned locally and internationally in the field of Music and Performance, Kristian Nairn is a prolific homegrown talent. As a DJ and electronic music producer, Nairn has held down a residency for eleven years in Kremlin, one of Ireland's most popular and enduring venues. Nairn's remixes have been played in sets by some of house music legends, including the Freemasons and Grant Nelson.
Nairn is ready to take the electronic music world by storm with the release of his debut single entitled, "Up / Beacon (feat. Leanne Robinson)" set to be released on Friday, July 3rd on Radikal Records. The lead single "Up" has an upbeat tempo with a feel good vibe that offers beautiful synths, a piano melody combined with the dreamy vocals of Leanne Robinson. The B-side, "Beacon," is a progressive-house track with a unique blend of heavy synths and electro elements; making the song a perfect addition for an after-hours DJ set.
"Up / Beacon (feat. Leanne Robinson)" will be available for digital purchase and streaming worldwide on Friday, July 3rd. However, Nairn's single is available for pre-order on iTunes now.
Pre-order "Up / Beacon (feat. Leanne Robinson)" on iTunes: https://itunes.apple.com/us/album/up-beacon-feat.-leanne-robinson/id1009552232
Tracklisting:
1. Up (Club Mix) feat. Leanne Robinson
2. Up (Dub Mix) feat. Leanne Robinson
3. Up (Radio Edit) feat. Leanne Robinson
4. Beacon
For more information please visit: http://www.KristianNairn.com
Stay connected with Kristian Nairn on Facebook, Twitter, and Instagram
###
About Radikal Records:
Established in 1990, and based just outside of NYC, Radikal Records is one of the United States' leading independent record labels. In business for more than 25 years, they are focused on marketing, promoting, and distributing artists – not only to audiences in the USA, but also on a global basis to partners world-wide. Artists included on their roster over the years include: 2 Unlimited, N-Trance, Zombie Nation, ATB, Yello, Scooter, Schiller, Blank & Jones, Cosmic Gate, Sinead O'Connor, Ayah Marar, and many others. For more information visit: http://www.radikal.com