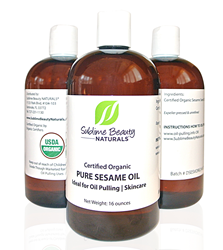 "Our new 16 ounce Sesame Oil is USDA Certified Organic. What you put on your skin is absorbed by the body, so make it clean and organic," says Heshelow, founder of Sublime Beauty NATURALS®.
St. Petersburg, FL (PRWEB) June 29, 2015
The new Sublime Beauty NATURALS® organic Sesame Oil is now available on Amazon.
"All of our products will be certified organic, pure or fully natural. Many people don't realize that what is placed on your body is absorbed into your system. Pesticides, preservatives, additives, hormones and such can cause health problems or reduce wellness," says Kathy Heshelow, founder of Sublime Beauty NATURALS®.
The designation "Certified Organic" means that the plants and products must be produced without the use of antibiotics, synthetic hormones, genetic engineering and other excluded practices, sewage sludge, or irradiation. Cloning animals or using their products would be considered inconsistent with organic practices. Organic foods are minimally processed without artificial ingredients, preservatives, or irradiation to maintain the integrity of the food.
"This is essential for the holistic practice of Oil Pulling," says Heshelow. "Daily Oil Pulling "pulls out" bacteria, viruses, fungi and other critters from your mouth, where they can not only cause oral disease but can overload the lymphatic system or spread to other organs. There is a strong link between oral health and a number of diseases," says Heshelow.
Oil Pulling is an ancient Ayurvedic practice that is fascinating and effective, says Heshelow, who practices it twice daily.
Learn all about Oil Pulling and the Organic Sesame Oil on the company website or at the instructional Oil Pulling website.
ABOUT: the motto of Sublime Beauty NATURALS is "Make Healthy Choices, Respect Your Body, Love Nature."