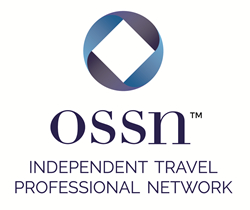 The Forum provided us with a terrific platform to build more relationships with travel agents and to personally share news of CCRA and OSSN's continued growth and increased offerings to make independent travel agents more successful and profitable
Fort Worth, Texas (PRWEB) June 26, 2015
On Sunday, June 21, OSSN – the premier industry trade association dedicated to serving the needs of independent travel professionals and travel agencies throughout North America – hosted more than 200 travel agents at its premier FirstNight VIP Event for OSSN members who were registered to attend the Home-Based Travel Agent Forum that took place at The Venetian Las Vegas on June 21-24. As a Presenting Sponsor of the Home-Based Travel Agent Forum, along with CCRA Travel Commerce Network and TRUE Inc., OSSN's successful pre-show VIP event was held at the High Roller at Las Vegas' Wheelhouse and added even more value for OSSN members attending the Forum. The free event for OSSN members allowed travel agents to take a ride high over the Las Vegas strip on the famous "High Roller" with a supplier of their choice, as well as mix and mingle with fellow OSSN members and suppliers during a VIP welcome reception.
"As the Presenting Sponsor for this year's Home-Based Travel Agent Forum along with OSSN and TRUE Inc., we were thrilled to provide more educational and supplier networking opportunities for the independent travel agent professionals in attendance," said Dic Marxen, President and CEO of CCRA. "This is the first year that OSSN hosted an exclusive first night event for its members, and it was extremely well received by both the travel agents and suppliers in attendance. Another highlight of our increased participation in this year's show was moderating and co-hosting Forum panels with OSSN, and connecting thousands of independent travel professionals with an impressive array of leading suppliers that truly value their business. The Forum provided us with a terrific platform to build more relationships with travel agents that are dedicated to enhancing their knowledge and learning new ways to enhance their businesses, and to personally share news of CCRA and OSSN's continued growth and increased offerings to make independent travel agents more successful and profitable."
As part of the Forum's schedule of events, OSSN and CCRA jointly hosted a panel titled, "Branding Your Agency In a Digital World" for travel agents to learn more about digital marketing tactics to boost sales, earn higher commissions and attract the right kinds of travelers to their agencies. CCRA's Platinum Partner Pavilion booth was shared with OSSN and TRUE Inc. representatives, as well as the following 14 leading supplier partner sponsors: Intercontinental Hotels Group, La Quinta Inns & Suites, World Hotels, AgentConnect, Rich Media Exchange, TripWing, BT Advantage, Air New Zealand, Scenic Cruises, Carey, Hertz, Personalized Services, Eurotur and Un-Cruise Adventures.
Since OSSN became a wholly owned subsidiary of CCRA Travel Commerce Network in 2014, the industry trade association has experienced a more active membership and continues to expand its presence by welcoming 10 new chapters across the U.S. in 2015 to-date. Over the past year, OSSN has unveiled entirely new branding, an enhanced social media presence, and will soon be unveiling its website re-launch scheduled for this summer. In May, OSSN began offering weekly Marketing Training Program webinars to train independent travel professionals to use the latest online tools, social media platforms and marketing programs including MailChimp, Eventbrite and more, to communicate more effectively in the online travel marketplace and advance their businesses.
For travel agents that were unable to attend the Home-Based Travel Agent Forum, CCRA has three remaining PowerSolutions Events taking place this fall that are free for independent travel agents to attend. The PowerSolutions events offer terrific opportunities for the independent travel agent community to network with like-minded professionals, learn more about the increasing number of member benefits from OSSN and TRUE Inc., and establish relationships with a vast array of domestic and international suppliers that include: hotels & resorts, airlines, car rental companies, tour operators, cruise lines, travel technology providers and more. Complimentary refreshments and snacks are served at the after-work events, as travel agent attendees mix and mingle with leading suppliers from around the world. The three remaining CCRA 2015 PowerSolutions Events are scheduled as follows:
Washington, DC – September 8, 2015
Long Island, NY – October 13, 2015
Newark, NJ – October 14, 2015
Travel agents are encouraged to register early via the following website if interested in attending an upcoming 2015 PowerSolutions show, as space is limited and will be offered on a first-reserve basis: http://www.eventbrite.com/o/ccra-travel-commerce-network-7970515770.
ABOUT OSSN
Founded in 1990, OSSN is the largest travel industry trade association in North America dedicated to serving the needs of home-based travel agents and agencies, host agency partners, and allied supplier members representing more than 8,200 agents, and allied suppliers worldwide. OSSN presently has more than 80 active OSSN chapters throughout the United States and 160 Allied Member Suppliers. Visit http://www.ossn.com or call 800-771-7327 for more information.
ABOUT CCRA
Based in Ft. Worth, Texas, CCRA Travel Commerce Network is a global hub for travel technology, marketing, accreditation and education. For over forty years, CCRA has connected travel professionals and suppliers with the products and services they need to drive revenue, relationships and brand recognition in the travel marketplace. From the TRUE accreditation and coding system to hotels, air, call center services and more, CCRA is truly where the travel industry connects. For more information, visit http://www.ccra.com.