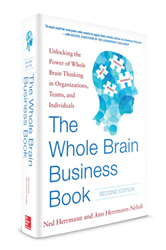 A treasure trove of practical tips on how to apply Whole Brain® Thinking at work...and a must-read for everyone who wants to apply their whole selves in whatever they do. – Jim Kouzes, coauthor of The Leadership Challenge
Lake Lure, NC (PRWEB) June 30, 2015
Herrmann International announces the release of The Whole Brain® Business Book, Second Edition: Unlocking the Power of Whole Brain Thinking in Organizations, Teams and Individuals (McGraw-Hill), a fully revised and enhanced edition of Ned Herrmann's classic guide to applying what we know about the brain to improve business results. With updated research and new case examples, charts, action steps and exercises, the second edition gives readers a comprehensive roadmap for putting their whole brain to work to meet the challenges of 21st century business.
"When the first edition came out, it opened up a lot of people's eyes to how they could better use their brains at work," says author Ann Herrmann-Nehdi, CEO of Herrmann International and daughter of the late Ned Herrmann. "Now the brain is getting plenty of well-deserved attention, particularly in the business and learning communities, but as my father always emphasized, what matters is practical application. With this update, I believe we've stayed true to that vision and expanded on it, with new ways to apply your whole brain to stay ahead of change, get more creative and outthink the competition."
In addition to incorporating the latest developments in brain research, the second edition includes new in-depth analysis as well as business and career advice based on Herrmann International's extensive database of Herrmann Brain Dominance Instrument® (HBDI®) profiles, representing the thinking preference data of more than two million people around the world, across industries and functions.
"Ann has done a masterful job of updating Ned's original work by including contemporary neurological perspective on brain functioning while connecting this to the latest thinking on human performance, interpersonal effectiveness and organizational design," says Dr. Mark Schar, senior researcher and lecturer at the Center for Design Research at Stanford University's School of Engineering.
The second edition also provides readers with real-world examples from companies like Microsoft, IHG, IBM, Caesars and numerous others that are applying the concepts of Whole Brain® Thinking to leverage their cognitive diversity, build the agility of their global leaders, manage change and complexity, and innovate faster and more efficiently.
"This book is rich in ah-ha moments and a treasure trove of practical tips on how to apply Whole Brain® Thinking at work, home and in the community," says Jim Kouzes, coauthor of The Leadership Challenge. "This is an extraordinary performance, a tour de force and a must-read for everyone who wants to apply their whole selves in whatever they do."
The Whole Brain Business Book, Second Edition: Unlocking the Power of Whole Brain Thinking In Organizations, Teams and Individuals, is available through Amazon.com and other retailers. Download a sample chapter.
About the Authors
Ann Herrmann-Nehdi is the CEO of Herrmann International and has worked with many hundreds of organizations around the world, helping them leverage their cognitive diversity and increase their thinking agility to improve profitability, leadership, productivity, innovation and overall business results. She has been featured in Business News Daily, Chief Executive Magazine, Chief Learning Officer Magazine, HR Executive Magazine, Investor's Business Daily, Management Today, T+D Magazine, Training Journal, and O The Oprah Magazine, among others, and has contributed chapters to many books on the topic of Whole Brain Thinking and Learning. A sought-after, inspirational speaker, she has delivered hundreds of featured keynotes and programs for domestic and international groups, including the LEAD 2015 Conference global simulcast.
Ned Herrmann, who founded Herrmann International in 1981 and was the originator of Whole Brain® Thinking, first pioneered the study of the brain in the field of business while working as manager of General Electric Corporation's Management Education at Crotonville. Herrmann's work has been featured in the Harvard Business Review, Business Week, Scientific American, Discover, USA Today, Training and Reader's Digest, among many other major publications. His book The Creative Brain, which was published in 1988, traces the scientific and historical roots of his innovative Whole Brain Thinking approach. McGraw Hill published the first edition of The Whole Brain Business Book in 1995, creating a new benchmark in the arena of mind research and its applications to business.
About Herrmann International
For more than three decades, Herrmann International has been at the forefront of the most progressive research exploring the connection between thinking preferences and business results. With its pioneering Whole Brain® Thinking approach, the company has turned this knowledge into practical, easy-to-apply training programs, tools and methods that help clients increase their thinking agility so they can achieve exponentially higher results. More than 70% of the Fortune 500, including 9 out of 10 of the Fortune 100, rely on Herrmann International's thinking style assessments and learning methods to help them build their competitive advantage. For more information: http://www.herrmannsolutions.com