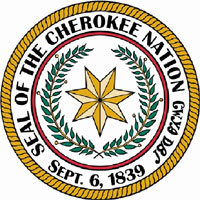 TAHLEQUAH, Okla. (PRWEB) June 25, 2015
After traveling nearly 1,000 miles across seven states, the 2015 Remember the Removal Bike Ride cyclists completed their journey Thursday, pedaling into Tahlequah to roaring applause by family and friends.
The 12 Cherokee Nation and seven Eastern Band of Cherokee Indians who participated in the ride started June 7 and retraced the northern route of the Trail of Tears on bicycles.
"We are so proud of these young Cherokee men and women. They have accomplished something very personal and special, and at the same time allowed all of us, as Cherokee citizens, to once again reflect on our history," said Cherokee Nation Deputy Principal Chief S. Joe Crittenden. "These riders represent all of us, and they honor our ancestors by participating in this annual event. Remember the Removal is a history lesson, leadership class and spiritual journey all rolled into one. The participants return today with a greater understanding not just of the hardships our people endured more than 175 years ago, but also a better grasp of the inner and collective strength it takes to survive as an individual and as a tribe."
The group, ranging in age from 16 to 37, spent three weeks traveling across Tennessee, Kentucky, Illinois, Missouri and Arkansas to arrive on the Cherokee Nation Courthouse Square in Tahlequah.
A return ceremony was held Thursday, and Deputy Chief Crittenden and tribal leaders awarded the cyclists medals and certificates for accomplishing the ride in tribute to their ancestors.
"This experience has been completely life-changing in so many ways, and I'm very proud to call myself Cherokee," said Wrighter Weavel, 18, a Gates Millennium Scholar attending Bacone College for wrestling this fall. "So many people just think of the Trail of Tears as a route our people walked to Oklahoma, but they are passing by hundreds of gravesites a day and don't even realize it. This ride is a memorial to all of them and all those ancestors who made it and made our tribe what it is today."
The riders visited various gravesites and historic landmarks significant to the history of the Trail of Tears, including Blythe Ferry in Tennessee, which was the last piece of Cherokee homeland the ancestors stood on before beginning the trek to Indian Territory. Riders visited Mantle Rock in Kentucky, which provided shelter as ancestors waited for the Ohio River to thaw in order to cross safely, and also stopped to pray at Shellsford Cemetery in Tennessee, where many Cherokees who died on the route are buried in unmarked graves.
The Cherokee Nation started the ride in 1984 as a leadership program so that Cherokee youth would never forget the hardships of their Cherokee ancestors. Of the estimated 16,000 forced to make the journey to Indian Territory, approximately 4,000 died due to exposure, starvation and disease.
"This ride has been life-changing. Some days were tough but having the family of the team kept me going, and I'm extremely honored to be a part of this team," said Kevin Tafoya, 37, of Wolfetown, North Carolina. "Spending so much time away from my family at home has helped me think about what our ancestors experienced when they had to leave their homeland, not knowing if they'd ever see it again. I can't imagine how hard it would be to lose so much and still find the strength to keep going. I just hope I exemplified their persevering spirit they had on the trail during this bike ride."
The 2015 Remember the Removal riders include the following:
Cherokee Nation
Tristan Trumbla, 25, Tahlequah
Kayla Davis, 19, Stilwell
Tanner Crow, 19, Tahlequah
Charles "Billy" Flint, 25, Tahlequah
Shawna Harter, 18, Tahlequah
Maggie McKinnis, 16, Hulbert
Wrighter Weavel, 18, Tahlequah
Caleb Cox, 19, Miami
Alexis Watt, 21, Monkey Island
Tennessee Loy, 22, Kenwood
Hailey Seago, 18, Claremore
Haylee Caviness, 18, Tahlequah
Eastern Band of Cherokee Indians
Savannah Hicks, 21, Painttown, North Carolina
Corlee Thomas-Hill, 25, Yellowhill, North Carolina
Matthew Martens, 30, Yellowhill, North Carolina
Kelly Murphy, 25, Painttown, North Carolina
Jake Stephens, 36, Birdtown, North Carolina
Kevin Tafoya, 37, Wolfetown, North Carolina
Darius Thompson, 19, Wolfetown, North Carolina
The 2015 Remember the Removal Bike Ride is chronicled on Facebook at http://www.facebook.com/removal.ride.
-30-
About Cherokee Nation
The Cherokee Nation is the federally recognized government of the Cherokee people and has inherent sovereign status recognized by treaty and law. The seat of tribal government is the W.W. Keeler Complex near Tahlequah, Oklahoma, the capital of the Cherokee Nation. With more than 315,000 citizens, 9,000 employees and a variety of tribal enterprises ranging from aerospace and defense contracts to entertainment venues, Cherokee Nation is one of the largest employers in northeastern Oklahoma and the largest tribal nation in the United States.
To learn more, please visit http://www.cherokee.org.
Editor's note: Find all the latest Cherokee Nation news at http://www.anadisgoi.com.