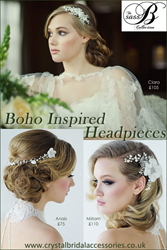 Brides really are spoilt for choice with the Sass B range which includes versatile hair vines, romantic floral combs and draping vintage-style forehead bands!
(PRWEB UK) 30 June 2015
Crystal Bridal Accessories announces the launch of Sass B Bridal Headpieces in their online boutique. Brides can now conveniently shop online for luxury costume headwear and jewellery at affordable prices from this renowned brand. The range of bridal hair vines, combs, headbands and forehead pieces is comprehensive with a beautifully romantic design accessory for every taste and wedding budget. The collection is inspired by Bohemian trends with elements of fabric, lace, pearls, crystals and plenty of forehead detail.
Bohemian is one of the biggest trends in the bridal industry over recent years and any bride planning a Boho-inspired look will know that the choice of hair accessories is endless. An intricate comb with fabric rosettes and lace are ideal for the bride who wants an ivory headpiece and the forehead chains with pearls are perfect for a Deco bridal look. A luxury accessory doesn't need to be extremely expensive - an affordable headpiece chosen carefully to complement the right style of wedding gown can make a bride look and feel a million dollars.
"The new Sass B range of accessories have already proven to be extremely popular with our brides," says Amy Karim, owner of Crystal Bridal Accessories. "Brides really are spoilt for choice with the Sass B range which includes versatile hair vines, romantic floral combs and draping vintage-style forehead bands. The hardest part for a bride, in our experience, is deciding which headpiece will coordinate perfectly with her chosen dress."
"The Sass B hair vines are designed with flexibility in mind so even if a bride has chosen, for example, a Grecian, strapless or vintage lace wedding dress - the right choice of vine will still fit perfectly with any of these dress styles. The hair vines can also be worn in so many different ways: at the back in a bun, across the front of the forehead or like a traditional headband. Brides can experiment with different hairstyles and even if they change their mind at the last minute, their headpiece will still work," adds Amy.
The Sass B range of luxury costume jewellery and headpieces are priced from forty pounds upwards. Brides can choose from stylish hair accessories such as Anais Bohemian Vine, Freya Rose Comb and even delicate freshwater pearl hair pins such as Neva and Marcia. The collection is available on the Crystal Bridal Accessories website.
About Crystal Bridal
Crystal Bridal Accessories is an innovative business specialising in accessories for weddings, parties, balls, proms and special occasions. The online boutique offers the entire range of wedding shoes by Charlotte Mills, Harriet Wilde and Love Art Wear Art and quality wedding hair accessories by Louis Mariette, Halo and Co, Ivory and Co, SassB and other brands made with genuine Swarovski crystals. Crystal Bridal Accessories also stock a range of wedding hats, fascinators, gloves, Joyce Jackson wedding veils, bridal sashes and Lily Bella bird cage veils. Crystal Bridal Accessories is for the bride, bridesmaids, mother-of-the bride and for anyone who loves shoes, jewellery and handbags.
Crystal Bridal Accessories has been nominated for finalist for the British Wedding Awards 2015, Nominee for the Wedding Industry Awards 2014, Perfect Wedding Magazine 2013 and 2014 and Wedding Ideas Magazine 2013 and 2014. The company was Highly Commended by Wedding Ideas Awards 2012 for contribution to Bridal Accessories.
Brides can shop online at http://www.crystalbridalaccessories.co.uk. For further information or to request high resolution product images, please email us.