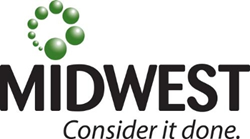 Canton, OH (PRWEB) June 25, 2015
Already established as one of the world's leaders in industrial solutions, Midwest is launching a new, specialized dust control solution designed specifically for use at indoor facilities. Building upon a long track record of success with automotive shredding solutions, the company now aims to help electronic and indoor operations run more smoothly.
By minimizing the amount of hazardous particulate dust found at indoor industrial sites, Midwest's new shredding solutions also promise healthier, happier, and more productive employees. No matter the specifics of the operation, dust almost always contains materials that can be harmful to workers, and Midwest's shredding solutions reduce the level of dust in the air by up to 85%.
Not only does this reduction make for healthier employees, but it also seriously reduces disposal costs. Ensuring that operations run smoothly and workers remain healthy also reduces employee turnover rate, improving the overall productivity of any shredding facility.
In addition to their unparalleled, foam-based dust control products, Midwest promises custom-designed equipment and applications for each client, and will ensure that a solution is carefully devised to meet a specific site's needs and requirements. Whether you're running an electronic recycling plant or a metal processing facility, Midwest will customize a dust control solution that's easy-to-use and cost-effective. If an indoor filtration system is already in place, Midwest will work with a facility to either supplement or replace it without throwing off operations in any way.
Dust can be a serious hazard — especially at indoor facilities with little or no ventilation. Midwest's newly-launched solution will not only make sure that everyone working at a facility is safe and healthy, but also that the entire operation can run efficiently in the absence of the detrimental effects of excessive dust.