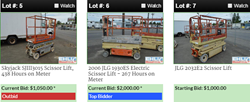 Tacoma, WA (PRWEB) July 02, 2015
CyberAuctions.com has released its next version of its online auction software. The updated bidding platform is now a responsive design to accommodate mobile bidders. A key new feature to the site is what the company calls real time bidding.
The real time technology was developed by Internet Business Technologies located in the UK and incorporated into the web site by Silver Connect Web Design. Randy Ehli, President of CyberAuctions.com stated "Simply put our bidding customers no longer have to refresh screens to get the current information about the status of their bids. This is turn has created a more competitive bidding environment that simulates a live auction. CyberAuctions.com is the first online only auction platform to make the step to Web 3.0 and a real time experience."
CyberAuctions.com is the online auction division of Ehli Auctions a commercial and industrial auction company with a history of auctions since 1919. CyberAuctions.com also license its SAAS platform to the auction industry and government agencies.