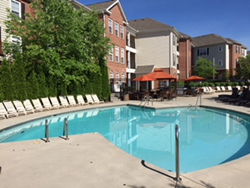 "The property is one of the nicest communities serving the students at University of Tennessee,"
Leesburg, VA (PRWEB) June 30, 2015
A joint venture between Militello Capital, a greater Washington, DC private equity investment firm, and QR Capital, an Atlanta-based real estate investment firm, announces the acquisition of Quarry Trail Apartments, an 840-bed student housing community in Knoxville, Tennessee.
Quarry Trail was acquired for $42 million – the joint venture's largest acquisition to date – with capital support led by registered investment advisors (RIAs) seeking access to vetted and privately held income-producing real estate investments on behalf of their high net worth clients. The property marks the eighth multi-family investment acquired by the Militello Capital-QR Capital joint venture.
Quarry Trail is a purpose-built student housing community constructed in 2008. The property consists of one, two, three, and four-bedroom units and is located minutes from the University of Tennessee at Knoxville. Amenities include three pools, a fitness center, theater room, business center with Mac computers, sand volleyball court, outdoor fire pit, billiard lounge, tanning beds and hourly bus service to campus.
"We are excited to expand our real estate portfolio with the acquisition of Quarry Trail," said Matt Brady, Co-founder and Chief Operating Officer of Militello Capital. "The property is one of the nicest communities serving the students at University of Tennessee, and will benefit from both the growth of the University as well as our planned operational improvements. We look forward to maximizing Quarry Trail's potential as we've done in the past with other properties and continue to provide what our RIA clients have come to expect from our real estate investments."
Militello Capital
Militello Capital is a Northern Virginia-based private equity investment manager working exclusively with registered investment advisers (RIAs) who aim to broaden their portfolio allocations to include entrepreneurs and real estate. Militello's investment philosophy and strategy are based on the principle that today's wealth is created in the real economy. The firm currently offers RIAs two distinct investment strategies that complement their existing portfolios: direct investments in income-producing commercial real estate and emerging technology venture capital.
QR Capital
QR Capital is an Atlanta-based real estate investment and operating company focused on the acquisition and operation of apartment and student housing communities. The firm focuses on income-producing opportunities in thriving southeastern markets. Since 2009, QR Capital has acquired 28 properties consisting of over 5,000 apartment units.
The information contained herein should not be construed as personalized investment advice. Investing in venture capital companies involves some degree of risk and may not be suitable for all investors. Information presented herein is subject to change without notice and should not be considered as a solicitation to buy or sell any security. The companies highlighted above are not necessarily the highest performing investments in the fund, but are noted as purchases made to date. The reader should not assume that investments in the companies identified were or will be profitable.