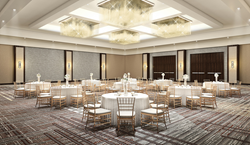 Grand Hyatt Denver features innovative design and a dramatic, exciting atmosphere. We create spectacular events, and we look forward to welcoming our new and returning guests to our renovated event and social spaces.
Denver, CO (PRWEB) June 29, 2015
Grand Hyatt Denver and Hyatt Regency Denver at Colorado Convention Center hotels, both located in downtown Denver, announce today that each property will renovate its meeting and event spaces, including a total of four large ballrooms, to offer planners and guests bold and fresh aesthetics reflective of the hotels' brands, and the ever-evolving Mile High City. The project at the two hotels is estimated at a combined cost of $10 million.
Grand Hyatt Denver
Designed by renowned architecture firm, Looney and Associates, Grand Hyatt Denver's conference space will be completely modernized. Spanning the hotel's Grand and Imperial ballrooms, and numerous meeting rooms located on two interconnected levels, the new updates will include floor and wall coverings in patterns that are inspired by the Mile High City's urban grid, using tones of grey and sunset rusts. The use of natural materials and dark walnut millwork will complement custom light fixtures, and provide a soft and flattering glow. Statement door entries will create an unmistakable sense of arrival in foyer areas, while free-standing columns and refreshed elevator lobbies will offer inviting spaces for guests to reconnect in.
"Grand Hyatt Denver features innovative design and a dramatic, exciting atmosphere. We create spectacular events, and we look forward to welcoming our new and returning guests to our renovated event and social spaces," said Mark Stiebeling, general manager, Grand Hyatt Denver.
Hyatt Regency Denver at Colorado Convention Center
Hyatt Regency Denver's conference facility is comprised of 60,600 square feet of versatile boardrooms and meeting room spaces, including the renowned Capitol and Centennial ballrooms and adjoining pre-function areas. The new look will deliver a Colorado sense of place as Denver designers Rowland + Broughton will add layers of texture and color to evoke the surrounding mountains, while contemporary furnishings and innovative design details will create a modern yet residential feel to the redone areas. The hotel's foyer functionality will be enhanced with furnishings that can be configured for a variety of meeting and convention seating styles; and one meeting space will provide collaborative seating and work tables for multi-functional use.
"At Hyatt Regency Denver at Colorado Convention Center, we create energizing experiences by connecting guests to who and what matters to them most," said general manager Ed Bucholtz, Hyatt Regency Denver at Colorado Convention Center. "We look forward to welcoming our customers to meet in our new space, where they will find innovative design that will complement both business and social gatherings," Bucholtz continued.
For more information on either hotel, please contact Hyatt's Denver Downtown Sales Office at
(303) 486-4400 or e-mail dencc(dot)rfp(at)hyatt(dot)com.
About Grand Hyatt Denver
Grand Hyatt Denver, ideally located only one block from the city's renowned 16th Street Mall, a pedestrian promenade in the heart of downtown Denver's business and financial district, just completed a $33 million renovation. The hotel's uniquely designed lobby features lineal stacked fireplaces set in chiseled stone on a 29 foot high wall, a focal point for arriving guests. Grand Hyatt Denver is walking distance to some of the Mile High City's best attractions and provides 516 spacious, newly redesigned accommodations. Each guestroom boasts free WiFi, well-lit work stations, furnishings designed for comfort and Hyatt's Grand Bed™. Grand Hyatt Denver offers one of downtown Denver's only rooftop jogging tracks and tennis courts, a complement to its an indoor pool that adjoins a 24-hour health club, which are complimentary to hotel guests. Pub 17 on Welton Street, a Sunset magazine editors' pick, serves breakfast, lunch and dinner and features, "happy hour" daily, with over 50 Colorado craft beers on its menu. In-room dining is available around the clock. Included in Grand Hyatt Denver's over 52,600 square feet of flexible meeting and event space, are five large ballrooms and fourteen meeting rooms. This year, among its recognitions, Grand Hyatt Denver is the recipient of Successful Meetings Magazine's Pinnacle Award and both Travelocity and Trip Advisor's "Certificates of Excellence."
About Hyatt Regency Denver at Colorado Convention Center
With 1,100 newly redesigned accommodations, Hyatt Regency Denver at Colorado Convention Center is one of the region's largest hotels. Standing 36-stories high, sleek and contemporary in design, it is adjacent to the Colorado Convention Center and just one block from the 16th Street Mall pedestrian promenade. The recently completed $23 million guest room refresh is created with a décor that captures the essence of being where the mountains meet the plains. With special emphasis on state-of-art technology, each accommodation now features the convenience of LCD Smart 46 inch televisions and free high-speed Internet along with comfortable work stations. A 6,700 square foot fitness center features windows overlooking the 14th Street Theater District and includes Spa Universaire, an indoor lap-pool and outdoor sun deck and whirlpool. In addition to Altitude Restaurant, Hyatt Regency Denver provides two lounges: Strata Bar located in the lobby and the 27th floor Peaks Lounge, windowed on three sides, capturing sweeping views of the Rocky Mountains. Peaks Lounge is also available for meetings during the day. The hotel features a total of over 60,600 square feet of versatile meeting and event space. Hyatt Regency Denver also holds the Successful Meetings Magazine's Pinnacle Award and the Trip Advisor "Certificate of Excellence".
About Grand Hyatt
Around the world, Grand Hyatt hotels unlock the extraordinary in every moment by creating experiences beyond expectation. Located at the crossroads of local culture and global business within major gateway cities and resort destinations, each Grand Hyatt hotel is uniquely designed to reflect its own distinct environment and provides a hub for travelers and locals alike. Grand Hyatt hotels exemplify the pursuit of life lived grandly offering guests superior service, first-class accommodations and an abundance of options within a multicultural backdrop of dramatic architecture and innovative design. Grand Hyatt properties boast inventive restaurants, luxury spas, fitness centers, and stunning business, meeting and event facilities. The Grand Hyatt brand stands to make every moment memorable through its commitment to #LivingGrand every day. For more information or to make a reservation, visit grandhyatt.com.
About Hyatt Regency
Hyatt Regency is an energizing hotel brand that connects travelers to whom and what matters most to them. More than 140 conveniently located Hyatt Regency urban and resort locations in over 30 countries around the world serve as the go-to gathering space for every occasion – from efficient business meetings to memorable family vacations. The brand offers a one-stop experience that puts everything guests need right at their fingertips. Hyatt Regency hotels and resorts offer a full range of services and amenities, including notable culinary experiences; technology-enabled ways to collaborate; the space to work, engage or relax; and expert planners who take care of every detail. For more information, visit hyattregency.com or facebook.com/HyattRegency.
Forward-Looking Statements
Forward-Looking Statements in this press release, which are not historical facts, are forward-looking statements within the meaning of the Private Securities Litigation Reform Act of 1995. Our actual results, performance or achievements may differ materially from those expressed or implied by these forward-looking statements. In some cases, you can identify forward-looking statements by the use of words such as "may," "could," "expect," "intend," "plan," "seek," "anticipate," "believe," "estimate," "predict," "potential," "continue," "likely," "will," "would" and variations of these terms and similar expressions, or the negative of these terms or similar expressions. Such forward-looking statements are necessarily based upon estimates and assumptions that, while considered reasonable by us and our management, are inherently uncertain. Factors that may cause actual results to differ materially from current expectations include, among others, the rate and pace of economic recovery following economic downturns; levels of spending in business and leisure segments as well as consumer confidence; declines in occupancy and average daily rate; if our third-party owners, franchisees or development partners are unable to access the capital necessary to fund current operations or implement our plans for growth; changes in the competitive environment in our industry and the markets where we operate; our ability to access the capital markets; and other risks discussed in the Company's filings with the U.S. Securities and Exchange Commission, including our Annual Report on Form 10-K, which filings are available from the SEC. We caution you not to place undue reliance on any forward-looking statements, which are made as of the date of this press release. We undertake no obligation to update publicly any of these forward-looking statements to reflect actual results, new information or future events, changes in assumptions or changes in other factors affecting forward-looking statements, except to the extent required by applicable laws. If we update one or more forward-looking statements, no inference should be drawn that we will make additional updates with respect to those or other forward-looking statements.
###