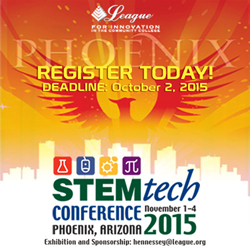 Chandler, AZ (PRWEB) June 30, 2015
The League for Innovation in the Community College (League) announces that Ellen D. Wagner, Chief Research and Strategy Officer at Predictive Analytics Reporting (PAR) Framework, and Susan Rundell Singer, Director of the Division of Undergraduate Education at the National Science Foundation (NSF), will provide keynote addresses at the 2015 STEMtech conference in Phoenix, Arizona, November 1-4.
Opening Keynote, November 1, 2015—Ellen D. Wagner, Co-Founder and Chief Research and Strategy Officer, PAR Framework
Wagner is co-founder and Chief Research and Strategy Officer of PAR Framework, a nonprofit data cooperative focused on institutional effectiveness and student success, as well as a partner and senior analyst with Sage Road Solutions. She has a proven record of bringing technology products to market, having previously held positions with WICHE Cooperative for Educational Technology, Adobe Systems, Macromedia, and Viviance New Education AG. Before joining the private sector, Wagner was a tenured professor and chair of the Educational Technology program at the University of Northern Colorado.
Closing Keynote, November 4, 2015—Susan Rundell Singer, Director, Division of Undergraduate Education, NSF
In addition to her current position with NSF, Rundell Singer is a Laurence McKinley Gould Professor in the Biology and Cognitive Science departments at Carleton College. She previously served as director of Carleton's Perlman Center for Learning and Teaching and as a NSF program officer in biology. Rundell Singer is co-author of the Vision and Change in Undergraduate Biology Education report and an introductory biology text. A developmental biologist who studies flowering in legumes and conducts research on learning in genomics, she is an American Association for the Advancement of Science fellow.
The League and University of Maryland University College have joined forces to bring you the best of STEM, analytics, big data, advanced technology, and learning management architecture at STEMtech 2015. This collaboration has led to the redesign of conference programming into eight conference tracks:

Learning Analytics
Advanced Technology Systems and Learning Management Architecture
Using Analytics to Recruit, Retain, and Transition Students
Advances in E-Learning
Health and Science
Mathematics, Engineering, and Architecture
Manufacturing, Energy, Aerospace, and Agriculture
Integration of STEM and the Liberal Arts
Visit the STEMtech conference website to learn more and to register.
About the League for Innovation in the Community College
The League for Innovation in the Community College is an international, nonprofit organization dedicated to catalyzing the community college movement. The League hosts conferences and institutes, develops print and digital resources, and leads projects and initiatives with more than 800 member colleges, 160 corporate partners, and a host of other government and nonprofit agencies in a continuing effort to make a positive difference for students and communities. Information about the League and its activities is available at http://www.league.org.