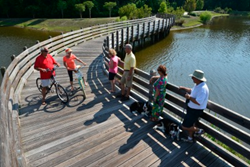 The build out currently underway at Brunswick Forest is bringing about noticeable change in commercial development for both Leland, NC and its residents, and for the residents of this master-planned community.
Libertyville, IL (PRWEB) June 26, 2015
Master-planned coastal North Carolina community Brunswick Forest, one of the communities recommended to those relocating to the southeast by real estate consulting firm Southeast Discovery and featured on its website, recently released its June 2015 Developer Update announcing ongoing community, commercial, amenity and neighborhood improvements. Southeast Discovery specializes in guiding Baby Boomers with their real estate needs in the niche markets of retirement relocation and second homes in the Southeast region, adding communities to its website and recommending them to clients after a thorough vetting process.
"The residential development of Brunswick Forest, located just 7 miles south of downtown Wilmington, NC, has significantly changed the landscape of the town it is located in, Leland, NC. The master-planned community is welcoming over 1,000 new property owners who are coming from all over the U.S. as well as locally, and the build out currently underway is bringing about noticeable change in commercial development for Leland, NC and its residents, and of course for the residents of Brunswick Forest as well," said Marian Schaffer, Southeast Discovery Principal and Founder.
The following community, commercial, amenity and neighborhood improvements are in progress or slated to begin soon at Brunswick Forest:
In the Spring of 2016, Brunswick Forest will gain its own water tower. Bids for construction of this tower will take place in July and construction is slated to begin in August 2015. The Brunswick Forest water tower will be located past the newly installed railroad crossing.
Construction of a storefront for telecommunications provider ATMC is currently underway, and will open its doors later this year in The Villages at Brunswick Forest, a 160-acre town center with 500,000 square feet of retail and professional establishments. The building will also hold office space for key ATMC IT personnel. The retail component will offer residents of Brunswick Forest and the greater Leland area phone, internet and cable television services, and will provide opportunities for residents to learn more about ATMC's unique 1-gig fiber-optic broadband service.
Berry Financial Group, Inc. and Farm Bureau will also be constructing their storefronts in The Villages, and construction will begin soon on the "for-lease" building in The Villages, welcoming Swell Vision Center, Legacy Homes by Bill Clark Design Center, Flights Craft Beer & Wine Bar and Slainté Irish Pub.
Continued improvements within the club facilities at Brunswick Forest continues as well. At Cape Fear National, Ivan Sherman has been named Food & Beverage Manager at The Forest. Sherman, who has over 12 years' experience in the industry, will be responsible for all day-to-day operations of the facility.
Josh Huber, Controller for Brunswick Forest, will continue to oversee management of the club facilities. Huber is focused on improving the clubs by concentrating on the overall experience received at each facility, from dining at The Forest to rounds of golf at Cape Fear National to taking a class at The Fitness & Wellness Center. Huber plans to implement ongoing improvements so that Brunswick Forest residents continue to enjoy quality service and top-notch amenities. The grand opening of the Pickle Ball courts at Cape Fear National is part of the improvement plan and is slated for mid-June.
The 5-Year Anniversary Celebration for Cape Fear National took place June 12th-21st and included a 5-Year anniversary party at Cape Fear National, and a week of festive events like the Celebration Concert in Annsdale Park with the Wilmington Big Band, a 5-Year anniversary brunch at The Forest, a new dinner menu rollout, and other dining specials.
Six new fitness classes were recently added to the schedule at the Fitness and Wellness Center in the community; new classes are added regularly based on resident interests.
The grand opening of the Cypress Pointe neighborhood, featuring trees draped with Spanish moss, expansive front porches, stately columns and gas lanterns, is scheduled for early August 2015. The opening of Tennyson Village will follow, bringing 44 Charleston-inspired town homes with private courtyards to the corner of Brunswick Forest Parkway and Low Country Boulevard.
And finally, the Brunswick Forest Builder Team has added several new builders to its lineup recently, including Liberty Homes, 70 West Builders, Southern Home Builders, Inc., and Tribute Homes. Joining Brunswick Forest's group of elite home builders will be David Weekley Homes. The David Weekley team has been an industry leader in the home building business since 1976 and will bring their industry expertise to a new section in Brunswick Forest to be released in 2016.
"Brunswick Forest is a dynamic residential community and its master-plan concept resonates well with today's real estate buyer who is looking to relocate to a mild four season coastal climate, an area known for its lower cost of living, and enjoyable pace of life," said Schaffer. "The community offers great lifestyle amenities both within the community and outside the development, and there are many area attributes that equally intrigue relocating Baby Boomers for their retirement years – beautiful beaches, endless golf courses to choose from, a historic city nearby to enjoy, continuing education opportunities, great shopping and dining venues and more," said Schaffer.
About Southeast Discovery
Since 2004, Southeast Discovery has been a trusted resource for candid information and insight on communities, developments, and general real estate in the Southeast. Through its highly-ranked web portal, newsletter and blog and its one-on-one work with clients, Southeast Discovery helps buyers actively looking for a retirement or second home in the Southeast navigate the process of identifying the right area and community for their needs. To learn more, visit http://www.southeastdiscovery.com/.