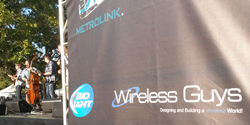 'You had a great crew and we appreciate everything,' Sean Keliiholokai, Director, Sales & Marketing, Greater Ontario Convention and Visitors Bureau said.
Ontario, CA (PRWEB) July 09, 2015
WirelessGuys announced this week, the successful design and deployment of secure temporary WIFI service for high volume onsite ticket sales and point-of-sale purchases at the 39th annual Huck Finn Jubilee in Ontario, CA.
Established in 1975, the Huck Finn Jubilee is currently produced by the Greater Ontario Convention & Visitors Bureau and is held at the Cucamonga-Guasti Regional Park in Ontario, CA. The Jubilee is a three day family friendly festival celebrating traditional music, education, activities and the evolution of bluegrass music. According to Michael Krouse, President and CEO of the Greater Ontario Convention & Visitors Bureau, "This year was a milestone in the Bluegrass Festival industry." Krouse noted that, "The line-up of entertainment, along with the music education and workshops provided at Huck Finn Jubilee, has the attention of the music industry." The 2015 lineup of entertainment featured a notable array of local, regional and national Grammy nominated and award-winning bands including Dr. Ralph Stanley, the Del McCoury Band, Ricky Skaggs, and Steve Martin and the Steep Canyon Rangers. One of the largest bluegrass festivals west of the Mississippi, the 2015 Huck Finn Jubilee boasted an all-time high attendance of 38,280 with visitors from across the United States. The impact of the Jubilee on the local economy was an impressive $7.1 million.
Anticipating the high volume of attendees and the unique wireless challenges for admission ticket and point-of-sale purchases, the event's organizers contracted with WirelessGuys to provide a viable and reliable WIFI solution for the event.
WirelessGuys is a Wireless Services Integrator specializing in the design, installation and support of wireless systems. Well-known for providing flawless, secure and fast delivery of temporary WIFI event Internet solutions, WirelessGuys was the logical choice for the Huck Finn Jubilee.
WirelessGuys' knowledgeable Professional Services Team understands the complexities of providing reliable Internet service in high density environments such as the Huck Finn Jubilee. A contributing factor to the continued success of the Jubilee depended on a WIFI system designed specifically for temporary deployment, guaranteeing continued service regardless of external influences such as power loss and interference.
A thorough assessment of event essentials and the physical layout of the event, revealed several challenges for a successful design and deployment. The primary challenge was providing reliable and consistent WIFI connectivity to credit card scanners located at the entrance and to vendors in the Beer Garden.
The Cucamonga-Guasti Regional Park, the site of the Huck Finn Jubilee, is located approximately 1.8 miles from available Internet service at the Ontario Convention Center and City Hall. The team addressed Line of Site issues with the placement of primary and redundant radios on City Hall and more on a strategically placed boom lift onsite with a generator for power.
For the Huck Finn Jubilee solution, WirelessGuys opted to use Ruckus Wireless equipment including dual band access points optimized for high density environments and capable of supporting secure high volume credit card transactions. The Ruckus Wireless products were selected for their ability to steer signals around interference and obstructions and deliver unprecedented coverage and consistent performance.
WirelessGuys' technicians knew the exact parts needed, how to program the equipment and how to install it properly so it not only worked, but reduced the points of failure. They realized that downtime was not an option for the Huck Finn Jubilee and were prepared with redundant radios on the boom lift, the ticket booths and the Beer Garden. To further ensure a successful event, WirelessGuys Professional Services Team members were onsite during all hours of the three day event.
Organizers of the 2015 Huck Finn Jubilee Bluegrass Music Festival reported the event to be the most successful event to date. Contributing to that success is the efficient alliance of the Greater Ontario Convention & Visitors Bureau, the City of Ontario, and WirelessGuys.
WirelessGuys has proven itself to be a forerunner and leading provider for temporary WIFI service for the most challenging indoor and outdoor venues.
About WirelessGuys:
WirelessGuys is the premier reseller of complete end-to-end wireless technologies and solutions. With more than 50 years combined Professional Services Team member experience, WirelessGuys is a highly qualified Managed Wireless Integrator specializing in point-to-point (PtP) wireless backhaul, point-to-multipoint (PTMP) wireless bridges, WiMax backhaul, municipal WIFI, SOHO, DAS, and beamforming products for both indoor and outdoor applications. Employing both licensed and unlicensed wireless connectivity, WirelessGuys delivers the highest level of knowledge and expertise to a wide range of customers including WISPs, telcos, municipalities, utility companies, and schools. WirelessGuys provides professional services, solutions and support to both new and established businesses worldwide.
WirelessGuys' suite of services includes site surveys, site acquisition, feasibility studies, RF and spectrum analysis, microwave path calculations, RF engineering and design, system troubleshooting, and remote access and monitoring of wireless backhaul networks.
WirelessGuys is a Parts, Smarts and Labor company offering design, sales and installation services as well as preventative network health maintenance and remote monitoring. WirelessGuys' networking and communications products combines both brand name manufacturers and innovative customer specific proprietary systems designed to increase the range and reliability of wireless networks.
The entire WirelessGuys Professional Services team is cross trained in all sectors and provides a unique synergy that delivers cutting edge solutions to the most critical current wireless network issues. WirelessGuys benefits its customers by leveraging its deep integration expertise and extensive wireless knowledge to reduce deployment costs, increase ROI, and ensure consistent performance in even the most challenging environments.
WirelessGuys' Remote Services Division offers a wireless integration management platform to provide comprehensive management of any network infrastructure. Remote management allows WirelessGuys to quickly determine and resolve emerging network instabilities or to dispatch the Professional Services Team for onsite resolutions.
Offering a global reach with a local flare, WirelessGuys is well positioned as a forerunner in the wireless solutions arena. Regardless of the application, WirelessGuys' end-to-end product portfolio enables them to custom build a wireless solution to fit any customer's needs. For more information, please call 1-800-945-3294, email solutions(at)WirelessGuys(dot)com or visit http://www.wirelessguys.com.
Contact Information:
Steven Williams
WirelessGuys, Inc.
http://www.wirelessguys.com
(800) 945-3294