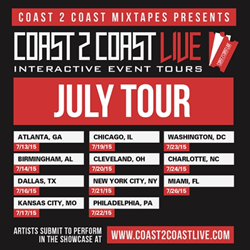 Miami, FL (PRWEB) June 26, 2015
Coast 2 Coast Live announces the June 2015 Tour, bringing celebrity judges, DJs, Producers, A&Rs, Recording and Performing artists, and more to Eleven U.S. cities. Coast 2 Coast Live provides artists an opportunity to network and perform for recognition and prizes. Artists can submit to perform at Coast 2 Coast Live.
Each event on the tour will feature an artist showcase, allowing independent artists to perform and be judged by various celebrity judges spanning the music industry via the exclusive Coast 2 Coast LIVE judging system on iPads, and the winner walks away with a huge prize package to take their career to the next level and join Coast 2 Coast in Miami for the 2015 Convention. Judges in the past have included multi-platinum and Grammy nominated artist Warren G, the #1 DJ in the South Bigga Rankin, Legendary DJ Big Kap (Notorious B.I.G.), and Grammy winning producer Rockwilder just to name a few.
July 2015 Tour Dates:
7/13/15 - Atlanta, GA
7/14/15 - Birmingham, AL
7/16/15 - Dallas, TX
7/17/15 - Kansas City, MO
7/19/15 - Chicago, IL
7/20/15 - Cleveland, OH
7/21/15 - New York City, NY
7/22/15 - Philadelphia, PA
7/23/15 - Washington, DC
7/24/15 - Charlotte, NC
7/26/15 - Miami, FL
To find out more about the Coast 2 Coast LIVE June Tour visit the website. Artists can submit to perform by going to http://www.coast2coastlive.com and media, DJs and models can register for free to any events at http://www.coast2coastlive.com/events
About Coast 2 Coast LIVE:
Coast 2 Coast LIVE tours in over 10 cities every month to bring indie artists major opportunities through our interactive showcase events. Artists submit via the website and get votes to perform in their city, judges critique the artists in various categories to find a winner for every city to take their music career to the next level. For more information, visit http://www.coast2coastlive.com