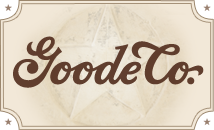 Bridgeport, CT (PRWEB) July 01, 2015
GoECart, the leading provider of complete omni-channel commerce software for small and medium-sized businesses (SMBs), has really turned up the heat for Goode Company, a Houston TX-based restaurant chain and online retailer that sells a line of prepared food, apparel, books, gifts and "cookin' tools." With their biggest selling opportunities approaching as summer grilling season heats up, Goode Company decided they needed to upgrade their legacy open source eCommerce platform.
GoECart successfully migrated the website and back-office functions in less than 100 days. To see a short case study outlining the great results Good Company is getting from GoECart, go here: GoECart.com/clients/GoECart-CaseStudy-Goode-Company.pdf.
Goode Company had serious issues with the popular open source ecommerce solution and learned that even with extensive custom programming and availability of many third party plug-ins, the system could only handle about 50% of the functionality they now required. With two failed implementations in just three years, the management team needed a quick but risk-free implementation. Additionally, the company didn't want to invest in an expensive on premise system that required constant re-programming or IT involvement which would have been a drag on the business.
Unlike a traditional ecommerce store, Goode Company had unique business requirements specific to the food and gifts industry. Most of their products are prepared fresh and thus they don't have a lot of inventory simply sitting in the Warehouse. Plus, many of their items can only remain in transit for 2 days which impacts shipping. Combine that with the need to service large corporate orders to multiple destinations on specific delivery dates, all while making the website user experience so easy that anyone could do it themselves posed a major challenge. Product bundles, gift notes, multi-location inventory, unique FedEx shipping rules to residential and commercial addresses and in-house production schedule further complicated the business requirements which simply could not be handled in a cost-effective or bug-free manner even by the large and well known system integrators who had full access to the open source code.
GoECart was able to serve up all the items on Goode Company's requirements menu. "GoECart is more than just a software vendor to us. They are innovators and problem solvers. They thrive under pressure and complexity. It's rare to find such a combination of technology talent and business acumen," says Rudy Fernandez, CFO, Goode Company. He continues, "GoECart has quickly become our trusted ecommerce advisor. They deliver on-time, within budget and with incredible passion and leadership. They are the true professionals!"
Staring down a holiday season deadline, GoECart experts were able to swiftly migrate the company's website and order management system to GoECart's cloud-based unified commerce platform — a platform fully equipped to serve the unique ecommerce needs of flowers, food and gifting retailers. Within three months, under deadline, Goode Company had a state-of-the-art digital ecommerce platform that delivered immediate benefits, including:

Bounce rate down 40% and pages per session up 26%
Ecommerce conversion up 52% during the 2014 holiday season
Revenue up 12.5% in 2014 over last year
Improved back office functionality drove productivity up by 50%
Took more orders in the 2014 holiday season with just half the staff
Average Order Value (AOV) ramped up 11%
To see a short case study outlining the great results Good Company is getting from GoECart, go here: GoECart.com/Clients/GoECart-CaseStudy-Goode-Company.pdf
For more information on how GoECart can help your business migrate from outmoded legacy solutions and siloed applications to take full advantage of a cloud-based omni-channel commerce platform go here: http://www.GoECart.com
About GoECart
GoECart provides a complete software suite, GoECart 360, which enables SMB merchants to manage all aspects of omni-channel commerce — from ecommerce, order and inventory management, in-store POS to marketing, merchandising, e-marketplaces, fulfillment and customer service. GoECart eliminates technology and integration hassles, allowing businesses to run better and grow faster. The feature-packed GoECart 360 suite was designed from the ground up to be modern and meet the needs of today's empowered and connected customers. Additionally, GoECart's cloud-based delivery model delivers on the rewards of software-as-a-service (SaaS). These include zero investment in infrastructure, no integration headaches, free upgrades, and affordable, pay-as-you-go pricing.
Press Contact:
http://www.GoECart.com
855 Main Street Bridgeport, CT 06604 USA
1-877-243-3612
sales(at)goecart(dot)com