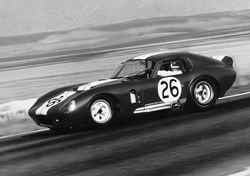 "It was the Fourth of July and we beat Ferrari!"
Phoenix, Arizona (PRWEB) June 30, 2015
Bob Bondurant has a compelling reason to celebrate the Fourth of July this year. The U.S. Independence Day will be the 50th anniversary of a memorable victory in the 12 Hours of Reims, France. The win clinched the 1965 FIA World Manufacturers' Championship for Bondurant and Shelby American, the first U.S. manufacturer to win an FIA (Fédération Internationale de l'Automobile) title. Shelby's Ford-powered cars won the highest class of international Grand Touring racing.
After a convincing GT win in the 1964 24 Hours of Le Mans, Bondurant and Shelby were ready for a championship in 1965. Bondurant had already earned five wins on the demanding tracks of Sebring (USA), Monza (Italy), Spa-Francorchamps (Belgium), Nürburgring (Germany) and Rossfeld (Germany) when he arrived in France for the July 4 race. He drove a powerful finishing stint in a Shelby Cobra Daytona Coupe to take his sixth win of the season, boosting Shelby and Ford to the championship over the previously dominant Ferrari effort.
Bondurant later added a triumph at Enna, Italy, for seven wins in 10 races in 1965. He started from the pole position for almost every race, drove the final stint to each victory and set a lap record at the Nürburgring circuit that held for 15 years. A season to be savored, indeed.
"Coming around on that last lap at Reims, it was the Fourth of July and we got the checkered flag first, so we won. We beat Ferrari! It was fantastic," he recalled. "Reims is the capital of Champagne, so we celebrated with Champagne – heartily!"
Shelby American founder Carroll Shelby later noted, "The greatest accomplishment of my life was winning the World Manufacturers' Championship in 1965."
Bondurant went on to establish the Bob Bondurant School of High Performance Driving, the largest purpose-built driving school in the world. "My life has been lived in two halves," he said. "The first was becoming a world champion driver. The second was teaching the world to become champions."
To mark the anniversary, the Bondurant School released a YouTube video highlighting all the drama and intrigue of the 1965 season: 1965 FIA World Manufacturers' Championship .
About Bondurant
The Bob Bondurant School of High Performance Driving is the official high-performance driving school of Chevrolet and Polaris. Opened in 1968 by Bob Bondurant, an internationally recognized leader in advanced driver training, it provides a full range of driver training to pros and novices alike. The largest purpose-built driving school in the world, the Phoenix facility includes a 15-turn, 1.6-mile road course, an eight-acre asphalt pad and more than 200 race-prepared vehicles. Bondurant SuperKart School offers two karting tracks with state-of-the-art equipment and training. Bondurant is also the premier leader in hosting unique corporate and original equipment manufacturer (OEM) events.