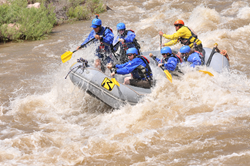 These flows have made small riffles into four-foot wave-trains, closed many advanced sections, and disrupted operations up and down the river corridor
Buena Vista, Colo. (PRWEB) June 26, 2015
River Runners, a Colorado whitewater rafting company with two locations on the Arkansas River, has altered trips to stay open during high water and plans to operate daily through September 7, 2015.
A record snowpack in Colorado this past winter - culminating in mid-May - has resulted in historic flows on the Arkansas River this spring and summer, according to Travis Hochard, general manager, River Runners.
"These flows have made small riffles into four-foot wave-trains, closed many advanced sections, and disrupted operations up and down the river corridor," explained Hochard. "As the floodwaters recede, more sections are opening up and more people can go rafting."
The Upper Arkansas River likely peaked on June 18, 2015 at 4,050 cubic feet per second (cfs) in the Numbers; 4,939 cfs in Browns Canyon; and 6,066 cfs in the Royal Gorge, according to Jon Treleani, head boatman, River Runners.
"The flows are trending down, which should be good for operations and business," Treleani said. "The extreme high water tends to scare people away, but even now we are running class II float trips."
The Arkansas River is starting to return to more normal flows, but should be above average all summer long, according to Treleani.
"This does not mean that we will have high water all summer," Treleani explained. "Rather than having a low water season we will continue with medium flows into August, which is more fun and safer for guests."
The Arkansas River is the most popular whitewater rafting river in Colorado and its central location, stunning scenery, and abundant whitewater have attracted thrill-seekers from all over the world for more than 40 years, according to River Runners.
River Runners offers guided whitewater rafting trips at the Royal Gorge and at Browns Canyon May through Labor Day. Choose from beginner, intermediate and advanced whitewater on half-day, full-day and overnight rafting trips. Call 800-723-8987 or book online at whitewater.net.