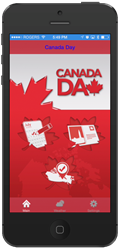 Canada Day is the day that Canadians all around the world find a way to connect with each other and celebrate this great country - Brian Hurley
Ottawa, Ontario (PRWEB) June 29, 2015
Purple Forge today updated the Official Canada Day mobile applications for all Canadians celebrating both at home and abroad. Adding Android platform support, the app was designed with a crowd-sourced approach to collect and display Canada Day event websites for display in the application. The mobile applications also include a postcard feature and a location-sharing button to share the location of your party with your friends.
Crowd-sourcing is one of the many planks of the Government of Canada's Open Government initiative, making the inclusion of a feature to allow governments and affiliated NGO organizations to provide their Canada Day event information a must-have feature of the application.
"Canada Day is the day that Canadians all around the world find a way to connect with each other and celebrate this great country," said Brian Hurley, CEO of Purple Forge. "We are proud to continue to offer this service to capture and share all of the event information published for Canadians."
The application is downloadable from the Apple iTunes and Android Play stores and is supported in both English and French.
About Purple Forge
Purple Forge is the leading provider of mobile application services to governments across North America, and around the world. Our mobile applications as a service offering allows governments to quickly deploy and engage their citizens and keep them informed about routine information, or push alerts to them in case of emergencies. Supporting a broad range of applications, including Elections, 511/Road Conditions, Parks & Recreation, 311/Problem Reporting, Parking and Pet Adoption, Purple Forge is driving cities to become smarter and more responsive to their citizens needs.