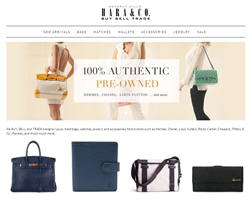 "Buy or sell gorgeous, pre-owned designer items. Handbags, watches, wallets, jewelry and more!"
Beverly Hills, CA (PRWEB) July 01, 2015
Hara & Co. has been Japan's most trusted source of authentic pre-owned luxury handbags, accessories, watches and jewelry for over 60 years, and they have just re-opened their new, user-friendly website to offer exclusive collections and prestigious service directly from Japan.
In addition to haraandco.com, Hara & Co. has a Beverly Hills storefront with exclusive and hard-to-find items. With over 60 years of experience, Hara & Co. guarantees 100% authenticity of products; all Hara & Co. appraisers have been trained to inspect bags, materials, hardware, lining, lettering & embossing, codes, cards, packaging and features to ensure authenticity.
Hara & Co. specializes in the most prestigious designer brands such as Louis Vuitton, Hermes, Chanel, Rolex, Patek Philippe, and Cartier, while being fully committed to bringing shoppers exactly what they are looking for at the best price. In addition to selling luxury goods, they also purchase high-end designer items, such as handbags, watches, rings, necklaces, wallets, bracelets, and belts. Customers are encouraged to shop their items with similar businesses then come to Hara & Co. to get the best payout for their products.
The website has been completely redesigned with a new look. Whether shopping online or in their retail location, Hara &Co's mission is for customers to have the best shopping experience whether they are just browsing for something new, interested in a specific item, or have items to sell.
Visit now: http://www.haraandco.com
Hara and Co. Beverly Hills CA
Address: 210 South Beverly Dr.Beverly Hills, CA 90212
Phone number: 310-247-5500
Email: info(at)haraandco(dot)com
For PR, please contact at marketing(at)haraandco(dot)com