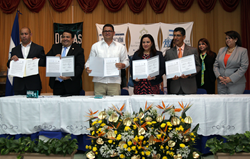 the Republic of Honduras is earning the applause of people of every nation for its initiative to bring to her people the truth about drugs
Los Angeles, CA (PRWEB) June 25, 2015
Mario Chirinos, Latin American ambassador for the Foundation for a Drug-Free World, traveled to the Honduran capital of Tegucigalpa this week for the historic signing of a Memorandum of Understanding—together with the First Lady of Honduras Ana Garcia de Hernandez; the Secretary of State in the Office of Education; the National Prevention, Rehabilitation and Social Program; Healthy Mind, Healthy Body Foundation and the Foundation for a Drug-Free World—that officially launches implementation of The Truth About Drugs educational programs throughout the country.
"As we enter the week in which the International Day Against Drug Abuse and Illicit Trafficking is observed internationally, the Republic of Honduras is earning the applause of people of every nation for its initiative to bring to her people the truth about drugs," said Mr. Chirinos.
The accord calls for a nationwide adoption of the Foundation for a Drug-Free World's Truth About Drugs educational curriculum in schools and community centers of a country squarely at the crossroads of drug and crime trafficking in the Western Hemisphere. Honduras' initiative underscores the theme of the United Nations Office on Drugs and Crime's annual World Drug Day on Friday, which is, "Let's develop our lives, our communities, our identities without drugs."
As is reported in her "Despacho Primera Dama" on the official Honduran presidential news page today (http://www.presidencia.gob.hn), First Lady Ana Hernandez lamented that Honduras' children are exposed to drugs at an early age, but that, "by implementing such prevention initiatives, our youth will be clean of any addiction; with [President] Juan Orlando we want to create a healthy country, free of drugs and violence," she said. She seeks to motivate students to participate in Honduras Activate, a presidential initiative to promote physical and social well-being (http://www.hondurasnews.com/honduras-activate-promotes-action/).
The Foundation for a Drug-Free World will supply the country with educational materials that are slated to reach more than 500 schools, community centers and churches over the next year. The Foundation is a Los Angeles-based nonprofit public benefit organization that provides free drug education resources in 22 languages to educators and volunteer organizations throughout the world. Its unique truth about drugs approach features real stories told by former drug abusers in the comprehensive Real People, Real Stories documentary and "They Said, They Lied" television public service announcements. These audio visual tools, along with the Truth About Drugs series booklets, address the effects and consequences of the most commonly abused drugs, whether prescription or street drugs.
"The Truth About Drugs curriculum digs deep into all aspects and consequences of today's most abused drugs—from what they are made of, to how they look, to what their street names are," said Eduardo Sabillon, founder of the San Pedro Sula-based Sound Mind, Healthy Body Foundation who first introduced The Truth About Drugs program to Honduran health and prevention officials last year. "The messages with the greatest impact on young people come from former users who describe in some detail how their lives were affected when they were trapped in the scourge of drugs."
Since first bringing the program here, Mr. Sabillon has trained educators from more than 200 schools, with 40 trained immediately after co-signing the implementation agreement.
Through volunteers in more than 100 countries—and thanks primarily to the contributions of members of the Churches of Scientology throughout the world—the Foundation for a Drug-Free World provides its drug prevention and education resources to educators free of charge. All Truth About Drugs materials can be ordered and/or downloaded at the Foundation's website (http://www.drugfreeworld.org).
For information on Healthy Mind, Healthy Body Foundation and its healthy choices youth programs in Honduras, visit http://www.clubdesafio.org or email Eduardo Sabillon at club (.) desafio (@) hotmail (.) com.