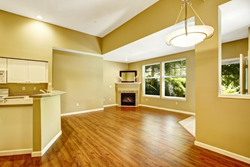 Typically, a renovation project won't add enough to the purchase price of a home to make up for the price of the pool itself.
Chicago, IL (PRWEB) June 25, 2015
Home upgrades can be an effective way to encourage a buyer to make a new home purchase. However, not all upgrades were created equal. Some might appeal to prospective buyers, while others might actually hinder interest in a property.
Knowing which upgrades might be risky can help a seller decide where to invest his or her money.
The Federal Savings Bank offers the following tips to avoid investing in unworthy upgrades.
Do not jump into the deep end
A pool is a risky investment because a prospective buyer can see this feature in different ways. A pool might appeal to some buyers who live in a climate that tends to have warmer weather throughout the year. However, a pool might also indicate high maintenance costs and even a safety issue for small children and pets.
Typically, a renovation project won't add enough to the purchase price of a home to make up for the price of the pool itself.
Be careful with adding a home office
Turning a bedroom into a home office might not benefit a seller when trying to list a home. A prospective buyer may have a difficult time envisioning other options for the space if it is showcased as a predetermined home office.
Demonstrating flexibility is key when listing a home.
No need to be bold
While showing your own personal style in your home's design is fun, selling a home is not the time to get creative. Sellers should stick to neutral colors and shades when painting or renovating space.
If a current homeowner invests in an updated kitchen, the expensive change might not pay off if he or she decides to use bright and bold colors. This always runs the risk of not matching the tastes of potential buyers.
Sellers should keep this in mind for back splashes, tiling and cabinets as well.
Avoid flooring mishaps
When installing new floors, a seller may want to avoid sticking with one type. For example, wall-to-wall carpet might turn off a high volume of potential buyers.
Consider the neighborhood
While it might seem like pouring money into upgrades is a good investment, sometimes sellers can go overboard. Before tackling any major renovations, sellers should check out other neighborhood homes and tailor their upgrades to these spaces. If a prospective buyer is looking in a specific neighborhood, he or she likely appreciates the types of houses and properties in the area.
Contact The Federal Savings Bank, a veteran owned bank, to learn more about mortgages.