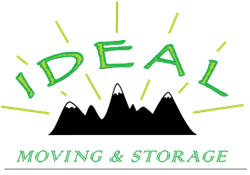 We are excited to offer a commercial moving service that specifically caters to property management companies, real estate companies and businesses of all types.
Denver, CO (PRWEB) June 26, 2015
A Denver metro area moving company, Ideal Moving And Storage announces they will now be offering commercial moving services. They'll be offering the same competitive rates, but they'll be focusing equally on providing efficient and convenient services to companies interested in moving their business.
Homeowners or business owners alike will want to take advantage of the great prices and deals this company has to offer. Moving doesn't have to be expensive. They have several deals that can help save a lot of money without compromising quality and service. Their superb Better Business Bureau speaks for itself and is testament to their commitment to great customer service, and overall great value.
The company can easily handle moving large or small scale commercial and residential moves. Their employees are trained in proper lifting, carrying, packing and general moving techniques. They're fully insured as well, which can provide for additional peace of mind when planning for a move. Finding a good Denver mover can be challenging, so Ideal is definitely worth calling.
For most people, moving can be very stressful. There's so many things to think about, plan for and ultimately get done. There's really is no need for the worry however. This incredibly convenient company has packers that can professionally wrap and transport virtually anything. They utilize blankets, padding, bubble wrap, dollies and straps to ensure extra protection and safety. It's incredibly important that belongings don't get broken or lost, but actually get to their destination in the same condition they were in before the move. Another benefit is, the company utilizes a tracking system and inventory control to help ensure all items are always accounted for.
People interested in finding the best moving companies in Denver, really should give Ideal a try and see for themselves why they are one of the fastest growing moving companies in Denver. The company is locally owned and operated as well.
In some situations, people that are moving need temporary storage for their things until their home is ready or something along those lines. Their storage facility is secure, and is just North of Denver in Commerce City. It has a twenty four hours a day video monitoring and security alarm system. As an option, they also offer extra-large private wood storage crates that can be convenient and keep items more easily accessible and easy to move. Please visit http://www.professionalmoversdenver.com or call the phone number within this article.
Contact Information:
Matthew Oliver
Info(at)idealmovingandstorage(dot)com
720-638-9870