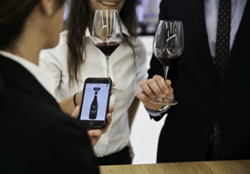 VINO is the ideal tool to immerse oneself in a complete and rich wine experience
verona, italy (PRWEB) June 28, 2015
Veronafiere and Vinitaly launch VINO - Vinitaly Wine Club, the first App entirely dedicated to the online sale of Italy's finest wines.
A mobile extension of the first digital platform dedicated to the discovery and sale of Italian Wine, "VINO" offers a range of bottles among a wide selection of more than 1.000 wines from all over Italy, from the mountains to the islands, thus offering users the possibility to take advantage of incredible exclusive offers thanks to continuous updates and in-depth information on the world of Italian wine.
VINO is the ideal tool to immerse oneself in a complete and rich wine experience: not only does it offer a wide selection of new labels that can be easily bought online, but users can also share and compare their Wine Profile with their friends and remain updated on the latest trends in the world of Italian wine, anywhere and at anytime.
The app VINO - Vinitaly Wine Club is divided into the three main macro-areas also available on the new Vinitaly Wine Club e-shop (vinitalyclub.com), and is designed to offer users a unique and personalized purchasing experience thanks to its in-depth overview of Italy's incredible wine production panorama.
"Wine shop" is the e-commerce section dedicated to the sale of Italian wines all around the world. A catalog of over 1000 of Italy's best labels, more than 1000 wineries from all 20 Italian regions participating at EXPO 2015 and covering 300 denominations.
"Taste" is an area where users can taste and discover all the other reviews on the Vinitaly Wine Club platform. Each user can give his or her rating and opinion on the wine that has been tasted and easily share it with others.
"Explore" is the blog area dedicated to all the latest news on the world of Italian wine and offers a valid support to users in their purchasing process. Consumers can gather information about the territory and grape varietals of wineries from all the 20 regions of Italy.
The Vino - Vinitaly Wine Club App is also the perfect guide for visitors of the Italian wine pavilion, VINO - A Taste of Italy, at EXPO Milano 2015: it supports visitors in the choice and selection of wines that best reflect their personal taste thanks to a wine profile (Italian Wine Profile) that suggests which wines to taste in the Wine Library on the first floor of the pavilion. Furthermore, thanks to the App, visitors can share their tasting experience with a passionate wine lover community, purchase the wines online and have them delivered directly to their door step.
The App VINO- Vinitaly Wine Club is now available on Appstore and Google Play.
About:
Veronafiere is the leading organizer of trade shows in Italy including Vinitaly (http://www.vinitaly.com), the largest wine and spirits fair in the world. During its 49th edition Vinitaly counted some 4.000 exhibitors on a 100.000 square meter area and 150.000 visitors including 2.600 journalists from 46 different countries. The next edition of the fair will take place on 10 - 13 April 2016. The premier event to Vinitaly, OperaWine (http://www.vinitalyinternational.com) "Finest Italian Wines: 100 Great Producers," will unite international wine professionals on April 9th in the heart of Verona, offering them the unique opportunity to discover and taste the wines of the 100 Best Italian Producers, as selected by Wine Spectator. Since 1998 Vinitaly International travels to several countries such as Russia, China, USA and Hong Kong thanks to its strategic arm abroad, Vinitaly International. In February 2014 Vinitaly International launched an educational project, the Vinitaly International Academy (VIA) with the aim of divulging and broadcasting the excellence and diversity of Italian wine around the globe. VIA has now also organized its very first Certification Course with the aim of creating new Ambassadors of Italian Wine in the World.
Vinitaly Wine Club manages an exclusive Wine Club, which offers members access to some of Italy's finest wines at great prices as well as weekly offers and limited edition wine collections. The innovative e-commerce platform also features a premium online Wine Shop with an ever changing collection of over 200 Italian wines and producers, selected by Vinitaly Wine Club staff in collaboration with its leading partner, Slow Food.
###