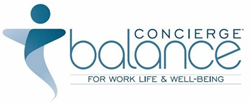 "Our new partnership with Review Concierge allows Balance to offer a much needed service to our clients in addition to helping them manage it, says Judy L. Foley."
Lansing, Michigan (PRWEB) June 28, 2015
Balance Concierge, a special niche concierge service benefiting healthcare employees, physicians and patients today announced a new partnership with Review Concierge® a growing technology company dedicated to helping healthcare professionals take control of their online reviews.
As an added benefit to the personal assistance, recognition and wellness programs Balance Concierge currently offers its clients, this new partnership will further help healthcare professionals by easily connecting them to Review Concierge's online review management tools.
Review Concierge offers a complete range of services to help doctors, dentists, alternative healthcare practitioners, as well as medical support teams including practice managers, patient experience professionals, and office managers, marketing and social media teams to manage their online reviews and protect their reputations.
"Review Concierge is pleased to partner with Balance Concierge's complementary services and technology offerings to the company's client base," said Laurie Bokuniewicz, Review Concierge Marketing Director.
She continues, "The increasing realization in the healthcare industry that online reviews matter and that they need to be monitored and managed can only be a value-add to the services offered by Balance Concierge."
Since its launch in October 2012, Review Concierge has had a steady growth rate, building its team of communications professionals and continually improving its features and technology infrastructure to supply healthcare professionals with insight into their online reviews so they can better manage their online reputations.
ABOUT REVIEW CONCIERGE
Review Concierge is a service for esteemed physicians who want to manage and protect their online reviews.
Since 2012, Review Concierge has been enhancing and increasing doctors' online reputations with a three-part approach that 1) monitors reviews; 2) responds to reviews; and 3) gets more reviews. We are headquartered in San Diego, CA and serve healthcare professionals in the U.S.A.
To read what doctors have to say about Review Concierge, visit: https://reviewconcierge.com/about/our_reviews
ABOUT BALANCE CONCIERGE
Balance Concierge, based in Lansing MI was founded in April of 2008 and provides a special niche concierge service benefit for healthcare employees and physicians and helps differentiate patient and family experiences. Balance also specializes in providing support for improving hospital gift shop revenue through redesign and merchandising and enhances participation in recognition wellness programs through its social platforms. Balance Concierge is led by founder and CEO Judy L. Foley.