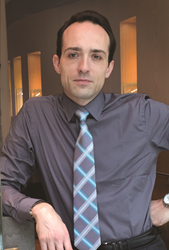 Garden City, NY (PRWEB) June 30, 2015
Cesare Tagliabue, a self-described "geologist and gemologist from birth" and 15-year veteran of the bridal jewelry industry, has joined Devotion as manager of the company's flagship store in the Roosevelt Field Mall in Garden City. In his role, he will spearhead a major effort by Devotion to raise its profile in the competitive Long Island and metro New York bridal jewelry market.
A native of Italy, Mr. Tagliabue noted that, "My whole family are geologists and gemologists, so my path was decided from birth. Since I was four years old, I was always playing with pebbles and was interested in geology."
He earned a doctorate in geology at the University of Earth Science in Pavia, Italy, and a Graduate Gemologist diploma at the famed Gemologist Institute of America in Carlsbad, California.
Mr. Tagliabue has worked as a sales associate, high-end gemologist, appraiser and manager in a career spanning some of the most celebrated names in the industry – Tiffany & Co. and Chopard Boutique in New York City – as well as leading fine jewelry retailers on Long Island. He said he is enthusiastic about his new opportunity because "Devotion is unique in its marketplace: its focus is entirely on high-end bridal jewelry, which is what I know best."
"Cesare brings a wealth of expertise and a unique flair to further enhance the client experience in our flagship store," said Jevan P. Fox, Devotion Vice President and Brand Manager. "He is someone who lives and breathes diamonds and bridal jewelry and is the ideal person to communicate the special story of Devotion diamonds to our customers."
At the store, Mr. Tagliabue is directing his efforts to educating clients about the unique beauty of Devotion's patented Round, Cushion and Square cuts, which have more facets than traditional diamond cuts. "Many jewelers are adding facets now, but most add too many – it almost makes the diamonds look fake," he said. "It was extremely time-consuming work for Devotion to get it just right; to add just the right facets to bring out the beauty in the stone. Patented Devotion diamonds have a superior brightness, fire and scintillation – what we call the 'inner blaze' – not found in any other diamonds in the world."
In addition, Devotion takes a similar uncompromising approach with its mountings.
"Most mountings are made overseas; you can't really control the quality," he said. "All of Devotion's jewelry is designed and crafted at our headquarters in Vermont. The quality of work and selection of materials is far beyond what is typical in the industry. For example, we use only 18 karat gold, never 14 karat, because it has more gold content, is richer in color, and allows us to achieve more details in our designs."
Of course, the literal centerpiece of Devotion jewelry is the stones themselves, which are hand-selected by Devotion President Perry Sporn in the world's most celebrated diamond markets.
"Customers need to understand that not all jewelers follow the same grading standards," Mr. Tagliabue explained. "We see each grade as a range and select only the top one percent of stones in that range. So, it's a simple fact that 99 percent of the diamonds you see in other stores would be rejected by Devotion."
To get the story of Devotion diamonds out, Mr. Tagliabue is planning new community outreach initiatives and special promotions in the coming months.
"We want everyone in the community who is in the market for an engagement ring or wedding band to come experience our store," Mr. Tagliabue said. "It is simply unlike any other – from the diverse array of loose stones you can examine to the level of care you will receive from our professional staff to the end product, which is literally a custom-made piece of jewelry, unique to the buyer." For more information, contact Devotion in Roosevelt Field at 516-415-5800 or visit them online at devotiondiamonds.com.