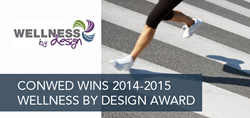 Minneapolis, Minnesota (PRWEB) June 26, 2015
Conwed, the leading plastic netting manufacturer in the world, was one of the organizations in Hennepin County winning the 2014-2015 Wellness by Design Awards. Headquartered in Minneapolis, Minnesota, Conwed received the Platinum + Green Award for excellence in worksite wellness and sustainability efforts. Barb Levercom, Benefits & Wellness Coordinator, and Bob Cody, Director of Human Resources, represented Conwed and received the award at the Earle Brown Heritage Center in Brooklyn Center on June 25, 2015.
Wellness by Design is a Public Health Promotion initiative by Hennepin County that endorses active living, healthy eating and tobacco-free lifestyle. The ultimate goal is to reduce chronic diseases and associated health-care costs. This year, the county added a green designation to recognize worksites that take initiatives to minimize their impact on the environment.
Honored with an award for the fourth consecutive year, Conwed is committed to creating a working culture and environment that supports the good health of its employees. "Modifying plan designs and shifting costs to employees were no longer options to control health insurance costs without negatively impacting our ability to attract and retain employees", said Cody. "With little control over the price tag on health insurance, we chose to focus on what we could control in collaboration with our employees".
A firm believer in promoting employee engagement to make wellness initiatives succeed, Barb Levercom, who leads the wellness program at Conwed, understood each company location sought and welcomed health programs. "We introduced wellness as a win-win solution for both employees and Conwed. We'd like our team to adopt a long-term commitment to healthy lifestyles and reach our ultimate goal of reducing health risks."
The Conwed wellness program - LIVE WELL. WORK WELL™ - promotes a healthy work environment and strives to find innovative ways to achieve this goal. In addition to incorporating and switching options to their wellness program to keep employees engaged, Conwed also offers a wide range of activities to increase participation and appeal to different employee interests. "We have expanded our program every year. From bike rides, walks and runs to healthy pot-luck gatherings, sponsored fruit baskets and supporting tools to promote employees' exercise, we are definitely committed to maintain our health efforts. It is amazing how fast this program has grown and how many success stories we've seen among our team. We're happy for this recognition and it only encourages us to continue with our wellness efforts", said Levercom.
For additional information about Conwed and its LIVE WELL. WORK WELL™ program, visit http://www.conwedplastics.com/wellness
About Conwed
Conwed is the leading plastic netting manufacturer in the world. Conwed manufactures extruded, oriented and knitted netting with unique customization capabilities. Headquartered in Minneapolis, Minnesota, Conwed has five manufacturing locations on two continents and a global distribution network.