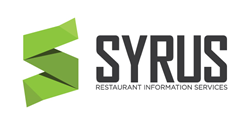 Columbus, OH (PRWEB) June 29, 2015
Syrus Restaurant Information Services (http://www.mysyrus.com) announced the hiring of restaurant and technology industry veteran Mike Tobin. Mr. Tobin brings a unique mix of experience in back office management and development of business processes and forecasting methods to drive efficiencies at the restaurant level.
During his 30 year career with Wendy's International, Mr. Tobin has served in Operations, Information Systems, Project Management, and oversight committees for back office in both the franchise and corporate restaurants. As a creative innovator and integrator, he used his process improvement skills to drive Wendy's revenue growth and improve organizational effectiveness.
Mr. Tobin's extensive technology background includes a broad range of expertise ranging from POS systems, to multi-unit and executive level reporting. He has a unique grasp of both the restaurant and technology worlds, and a deep understanding of how technology and information can drive profitability and operational efficiencies. His passion is in integrating technology into the restaurant industry, and using his change management skills to help restaurants grow sales and manage costs.
Mr. Tobin commented, "I am very excited to join the Syrus team, partnering with such a great organization, great people and fantastic client base. I am anxious to leverage and share my knowledge, experience and expertise in regard to mainline restaurant operations, technology integration, industry efficiencies and strategic vision to best serve our clients."
Jim Karam, Syrus President and CEO, added, "We are so fortunate to have someone with Mike's abilities and proven track record join our team. I can't think of anyone I've known in my time in this industry who has a better combination of skills to help us fulfill our promise to our customers, which is to use technology and information to drive operational and financial performance."
About Syrus Restaurant Information Services
http://www.mysyrus.com
Syrus Restaurant Information Services is the leading provider of back office and above-store reporting tools and services for the restaurant industry. The in-store tools and services allow 2,500+ restaurants to grow sales, and reduce food, inventory and labor costs while improving their overall operational efficiency. Syrus differentiates from their competition through their unique business model. Syrus provides both the software as well as the day-to-day technical and administrative oversight that clients can rely on to receive complete and accurate information every day.