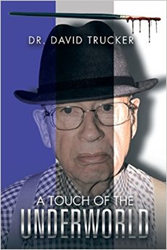 Minneapolis, MN (PRWEB) June 29, 2015
A story unique in American History is that of an 85-year-old working physician in Wisconsin who admits to having been part of the Underworld, a system that began as the Cleveland Syndicate and subsequently became the prototype of the Mafia in America.
"A Touch of The Underworld" by Dr. David Trucker, the pen name of Dr. David Florence, is an historical document pointing out the ingeniousness and violence, which led to many economic and cultural developments in America by the underworld and the role of his family and himself in the process.
Incorporating both the history and humor in a unique fashion makes this read a cliffhanger, along with Dr. Florence's interactions with many celebrities from Hollywood and around the nation.
"A Touch of The Underworld" is a must read for the curious and the adventurous.