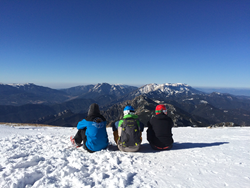 For us, the most important thing is that the [school ski] trip really works for the group and that the resort can cater for them effectively.
(PRWEB UK) 30 June 2015
The first thing to note is that the STF 2015 Snowsports Survey shows a rise in the proportion of respondents advising that they do arrange school ski trips in comparison with the previous year's survey. Halsbury Ski, a leading school ski tour operator, welcomes this news as it means that more and more British schoolchildren are able to experience school ski trips, which offer many more benefits to children than just learning to ski.
Travelling to another country in Europe, or even further afield, to ski provides students with the opportunity to explore different cultures and cuisine, as well as allowing students who are studying languages to practise them with native speakers. It provides students with a greater awareness of mountain geography and promotes physical fitness, all within spectacular surroundings that will leave lasting memories.
The proportion of respondents who advised that they used specialist school ski tour operators was also on the up in comparison to 2014 and they key factors in choosing which operator to use were shown to be 'price' and 'previous use'. As a school travel company founded by former teachers, Halsbury Ski understands this.
Halsbury Ski's experienced and knowledgeable team tailor-make every single trip they arrange, allowing them to cater to any budget. In addition, schools booking with Halsbury Ski normally have the same member of staff working on their booking every year, which greatly improves communication and allows for a closer working relationship. Many of Halsbury Ski's school groups return year-on-year and feedback has shown that this is because they can trust the quality of the organisation and of the experience that they and their students can expect.
In terms of preferred destinations, Austria, Italy and France were again named top three in the survey, with Italy beating France to second place this year. This does not surprise James Babb, Ski Tour Specialist with Halsbury Ski: "Italy is the most popular destination amongst our groups, with Austria and France not far behind. We love Italy as a destination for school ski groups, as it is very affordable and offers exceptionally high standards of accommodation, doorstep skiing, high altitude, stunning scenery and some of the most child-friendly slopes in the world on which to learn to ski."
When deciding on a resort, the survey shows that schools have three top priorities: suitability for school groups, good facilities for beginners and, of course, cost. Babb explains how Halsbury Ski works closely with group leaders to ensure that they choose the best resort for their group: "For us, the most important thing is that the trip really works for the group and that the resort can cater for them effectively. For example, if, as is often the case, a school group consists of a number of beginners, it is essential that the resort features a good sized beginner area with magic carpets or easy drag lifts. The resort must also feature good progression, with plenty of easy blues to allow students to really develop their skills and explore further."
He continues: "Once the lifts have stopped for the day, it is also important to ensure that the resort/hotel offers a good range of suitable activities, such as swimming or bowling, to ensure that the trip is as fun and rewarding as possible for the group. The challenge for us is to make all this happen within a budget that parents can afford. We work tirelessly to review the hotels/resorts that we currently work with, and look for new ones that offer the best value for money for our groups and this really does change year-on-year."
Halsbury Ski welcomes the fact that more schools seem to be realising the benefits of arranging a school ski trip and that more and more are choosing to book with a specialist school ski tour operator. The information regarding the important factors in choosing a resort and a school ski travel company are unsurprising, as this is reflected in much of the feedback received by the Halsbury Ski team and, as such, the operator has designed its tailor-made school ski tours with these important considerations in mind.
Halsbury Ski is the largest independent school ski tour operator founded by former teachers and has been operating since 1986. The team is made up of experienced and knowledgeable school ski travel specialists, many of whom have been with the company for many years. Halsbury Ski specialises in tailor-made school ski trips to Europe and North America.