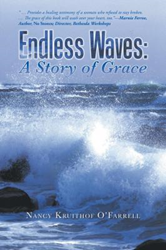 Montgomery, Al. (PRWEB) June 30, 2015
At 34-years old, life for Nancy Kruithof O'Farrell already seemed futile. She has decided to kill herself. But God's grace intervened, and O'Farrell embarked on a long and powerful journey of healing.
In Endless Waves: A Story of Grace, she shares her life story and reveals the painful details of her struggles.
Through narrative, journal entries, counselor's notes, poems and scriptures, this memoir tells more than a story of abuse, addiction and relationship issues. It shares the specific, detailed steps that aided O'Farrell's healing.
"How can something from so long ago still have such an effect on me?" O'Farrell said. "How can it be possible that the way I look at people and events today is based on what happened more than fifty years ago? This is such scary stuff to talk or write about."
O'Farrell shares with readers how she was redeemed by God's power and love, and she offers encouragement for others who face the same challenges.
Endless Waves: A Story of Grace
By: Nancy Kruitof O'Farrell
ISBN: 978-1-49175-179-4
Available at Author House and Barnes & Noble
About the author
Nancy Kruithof O'Farrell, a retired middle school teacher, earned a bachelor's degree in English and a master's degree in education from the University of South Alabama. O'Farrell has two dogs and two cats and lives in Alabama. This is her debut book.