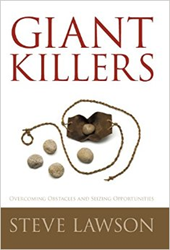 "He faced down a giant that had an entire army shaking in their sandals."
Greenville, TX (PRWEB) June 28, 2015
What is it that some people succeed while others fail? How do we break through glass ceilings and win during hard times? What characteristics do we need to develop so we can increase our chances in this world?
Pastor Steve Lawson says many of us get caught in the web of dream killers with no idea how to fight our way out, or how to prevent getting into that situation in the first place.
Lawson's new book, Giant Killers: Overcoming Obstacles and Seizing Opportunities, takes a look at one of the greatest leaders and kings of all time: King David.
"He faced down a giant that had an entire army shaking in their sandals," said Lawson. "He then went on to become the greatest warrior in Israel, build an army out of social rejects and establish the greatest kingdom in the history of Israel."
Lawson examines five key character qualities David displayed that helped him be successful, and shows us how we can develop those same characteristics.
"Though we may not have a Goliath in our lives, we have our own giants," Lawson said. "Giant Killers will help you confront your own giants. Whether you are dealing with a crisis or taking on new opportunities, these character qualities will help you face them with confidence."
Giant Killers: Overcoming Obstacles and Seizing Opportunities
By: Steve Lawson
ISBN: 978-1-49086-249-1
Available at Westbow Press and Barnes & Noble
About the author
Steve Lawson holds a master of divinity degree from The King's College and Seminary, a master of business administration from Amberton University, and completed the Doctor of Strategic Leadership program at Regent University. He is senior pastor of Grace Community Church in Greenville, Texas. Steve and his wife, Karen, have three grown daughters.