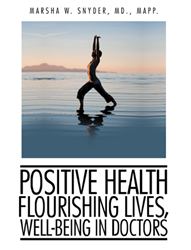 Bethlehem, PA (PRWEB) July 01, 2015
Who doesn't want a life filled with thriving positivity and high-life satisfaction? Do you seek meaning and purpose in life with a healthy balance between work and life, and positive friendships and relationships?
Dr. Marsha W. Snyder explains how to do this in her new book, Positive Health: Flourishing Lives, Wellbeing in Doctors.
With a focus on solving the epidemic of ill-being in the medical profession, often beginning in the first year of medical school, Positive Health is a must-read for all professionals, student-professionals and administrators in the medical field.
"The addition of a Positive Health curriculum in medical school and as continuing medical education for doctors, will eliminate the 40 to 60-percent rate of ill-being in doctors worldwide and will encourage doctors to teach positive health to their patients, resulting in a thriving population," said Snyder.
Increasing positive health in doctors and healthcare personnel will lead to increased employee and patient satisfaction, decreased cost of care, fewer employee sick days, decreased staff turnover, more efficient and effective healthcare teams, and decreased medical errors, among numerous other benefits.
Positive Health: Flourishing Lives, Wellbeing in Doctors
By: Dr. Marsha W. Snyder
ISBN: 978-1-45259-830-7
Available at Amazon, Barnes & Noble and WestBow Press
About the Author
Dr. Marsha W. Snyder is a trailblazer. A doctor of medicine, with a Masters degree in Applied Positive Psychology, she is a leader and teacher in Positive Health, Physicians' health, medical education curricula and leadership skills. Due to impactful personal and professional experience, she has devoted her career to helping individuals and organizations realize their potential to deliver compassionate, cost-effective, error-free care. Dr. Snyder has worked with medical schools to advance faculty, student and population thriving and wellbeing. She lives in Bethlehem, PA.