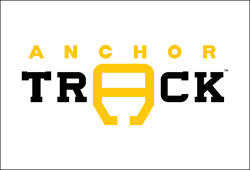 Morgantown, Pennsylvania (PRWEB) June 29, 2015
Rigid Lifelines®, a leader in engineered fall protection systems, has branded its enclosed rigid rail product line as Anchor Track™.
Rigid Lifelines' Anchor Track™ can be easily customized to accommodate curves or slopes, making it perfect for anywhere fall protection is required. Customers can choose from plain or trussed track in five track types, three track sizes, and three track materials. The enclosed design prevents debris from accumulating on the track, and allows overhead trolleys to glide effortlessly indoors or outdoors.
Rigid Lifelines offers 10 Anchor Track™ systems, including the portable Griffin™ and permanent Traveling Bridge. Rigid Lifelines' quality engineered Anchor Track™ comes standard with its patented Anchor Trolley™ technology, which offers effortless movement, decreased post-fall drift, and increased self-rescue capability—technology that is unmatched by the competition.
All of the Anchor Track™ systems reduce fall distances and impact forces during a fall event. Unlike traditional wire rope systems, Rigid Lifelines' Anchor Track™ eliminates the bounce effect and reduces the potential for secondary fall injuries. For unique applications, Rigid Lifelines' experienced engineers can design a customized system for most applications.
According to Rigid Lifelines' Vice President Steve Uhlig, "Our enclosed, maintenance-free track is what separates our systems from the competition. The Anchor Track™ is designed to work with our Anchor Trolley™ technology, which uses an automatic breaking mechanism to prevent workers from drifting on the track. The quality of our Anchor Track™ really speaks for itself."
Rigid Lifelines® is headquartered in Morgantown, Pennsylvania, and is America's preferred provider of rigid horizontal fall protection systems. Rigid Lifelines has nearly 20 years of experience engineering, designing, and testing fall protection systems. Visit our website and learn why Rigid Lifelines is the Future of Fall Protection™.