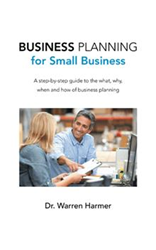 This book is developed from real experiences – it appreciates the challenges of actual small businesses
MELBOURNE, Australia (PRWEB) June 29, 2015
Small business issues are sure to be a hot topic in the upcoming elections, but what the candidates say likely won't help you actually run the day-to-day operations of a small business.
However, author Dr. Warren Harmer's new book, "Business Planning for Small Business," directly addresses the keys to a successful small business. With over 20 years of experience as a small business owner, Harmer bypasses corporate issues and hits the reality of creating and executing plans for small business.
"I have been to countless seminars and conferences with big ideas that evaporate as soon as the business owner gets back to work," Harmer said. "This book is developed from real experiences – it appreciates the challenges of actual small businesses."
Harmer's book gives readers a purpose for business planning and clear instructions on how to do it effectively.
"Business planning is a vital component of a successful small business, and it's not as hard as you think," Harmer said.
For more information, visit http://www.warrenharmer.com.
Book Business Planning for Small Business
By Warren Harmer
ISBN: 978-1-45252-684-3
Available in softcover and e-book
Available on Amazon, Barnes & Noble and Balboa Press
About the author
Warren Harmer resides in Melbourne, Australia where he is the current owner of The Business Plan Company. Harmer has his Ph.D. in science from Monash University, but found his passion in the small business world. After 20 years of owning small businesses and 12 years of small business consulting, Harmer has a strong sense of the problems facing small business owners. Aside from his book, Harmer also writes at Flying Solo and businesses.com.au.
# # #
**FOR IMMEDIATE RELEASE**
For review copies or interview requests, contact:
Drew Tharp
317.602.7137
dtharp(at)bohlsengroup(dot)com