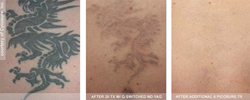 We can now deliver better clearance in less treatments for a lower cost to our patients
Philadelphia, PA (PRWEB) June 29, 2015
Ringpfeil Advanced Dermatology is the first to offer laser tattoo removal with the new Picosure® 532 nm hand piece in the Philadelphia and Main Line area. The new hand piece is able to target and clear red, orange, and yellow tattoo pigments more effectively than was possible before. With already far superior removal of black, green, and blue, tattoos the new upgrade positions the Picosure® as far the most effective tattoo removal laser across the full tattoo color spectrum.
"Picosure® revolutionized tattoo removal when it entered the market in early 2013. A single treatment with the Picosure® achieves better clearance than two or more treatments performed by other leading lasers on the market. The new upgrade allows us to treat tattoos even more effectively. We can now deliver better clearance in less treatments for a lower cost to our patients," says Dr. Franziska Ringpfeil, board certified dermatologist and the medical director at Ringpfeil Advanced Dermatology, with offices in Philadelphia and on the Main Line in PA.
Dr. Ringpfeil indicates that many of the patients who came to her practice in the past two years for tattoo removal started their treatment elsewhere but failed to achieve clearance after over 10 and sometimes over 20 treatments. She confers that not only is the Picosure® able to complete the tattoo removal but also to repair some of the damage created by the heat and trauma to the skin caused by the older lasers.
RAD also provides complementary phone consultations to customers who want to learn what the Picosure laser can do for them. The company's tattoo removal experts will discuss cost, number of treatments, expected results, and more. Customers can book a free Picosure tattoo removal phone consultation here.
About Ringpfeil Advanced Dermatology
Ringpfeil Advanced Dermatology provides premium general dermatology, cosmetic dermatology, dermatological and laser surgery to the Philadelphia, Main Line, and Delaware Valley area. The practice was founded by Franziska Ringpfeil, MD, board certified dermatologist with training in both the US and Germany as well as national and international recognition through lectures, peer-reviewed articles and many book chapters in leading text books. She is assistant professor at Sidney Kimmel Medical College at Thomas Jefferson University and the recipient of the prestigious Young Investigator Award by the American Academy of Dermatology. Her practice provides uncompromised quality of care through experience, technology, and focus on patient satisfaction.