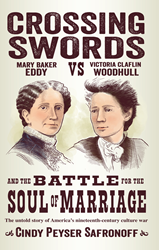 Crossing Swords is a terrific book—a fine blend of excellent writing and superior research.
Seattle, WA (PRWEB) July 01, 2015
There is nothing new about marriage debates and culture war in this land of liberty. Americans have been arguing over laws governing sexuality since the first Pilgrims landed at Plymouth Rock. The mid-1870s, however, was a particularly contentious period, as a forthcoming historical comparative biography by Cindy Safronoff reveals. Crossing Swords: Mary Baker Eddy vs. Victoria Claflin Woodhull and the Battle for the Soul of Marriage (This One Thing, July 4, 2015) tells the story of an American marriage debate during the early women's rights movement.
America's Centennial year was the climax of a nineteenth-century culture war between conservative Christian defenders of strictly monogamous legal marriage and the free-love reformers who advocated repealing all laws governing sexuality and abolishing legal marriage. Two representatives of the opposing sides, Mary Baker Eddy, the founder of the first Christian denomination to put women into the pulpit worldwide, and Victoria Woodhull, a socialist Spiritualist stock broker who became the first woman to run for US president, publicly clashed in 1876 near Boston, the cradle of the American Revolution.
In the decade after the American Civil War, reformers wanted to fulfill the promise of the American Revolution by giving both blacks and women the right to vote. The legal changes for woman suffrage seemed to shake the foundation of the male-female relationship. Disagreement over the implications of women's rights for sexuality triggered the political, legal, and religious fight documented in Crossing Swords. Part marriage law history lesson and part drama, the story explores the American conflict between defenders of the Puritan-influenced partnership marriage model and the counter-culture "free-love" movement through the life experiences, careers, and public statements of Eddy and Woodhull, two trailblazing public figures on opposite sides of the contentious social issue.
Woven through the story are two opposite American philosophies—nineteenth-century versions of conservative and progressive views—and different subcultures made possible by American freedom, each with its own way of applying concepts of inalienable rights, enlightenment, and freedom to sexuality. Many founders of the American Republic and famous historical figures make cameo appearances, as well as symbols like the Liberty Bell and Statue of Liberty. Independence Day had special meaning to both Eddy and Woodhull, and their public confrontation occurred during America's Centennial celebrations. The July 4, 2015, release is a nod to the book's thoroughly American themes.
Crossing Swords contributes to a deeper intellectual understanding of two important historical figures—largely overlooked but nonetheless influential women's rights advocates—and a long-forgotten American marriage debate. This thought-provoking literary non-fiction story is a surprisingly relevant prequel to the similarly divisive social issues we are wrestling with today. The book has received endorsements by prominent women historians and social commentators, including a winner of the Pulitzer Prize.
"Crossing Swords tells the intertwined tales of Victoria Woodhull and Mary Baker Eddy—two fearless American iconoclasts whose work on sex, love, and women's rights changed the course of American culture. Cindy Peyser Safronoff does a great job of bringing these fascinating women back to life in all of their brilliance and eccentricity for a new generation of readers." –Debby Applegate, author of the Pulitzer Prize-winning biography The Most Famous Man in America: The Biography of Henry Ward Beecher
"Crossing Swords is a fascinating look at two Victorian woman leaders in the female cultural war of their day. Mary Baker Eddy, the famed founder of Christian Science, battled "free love" while flamboyant Victoria Woodhull championed it. Safronoff deserves our praise for a well-crafted biography about two riveting opposites, who both fought fiercely for their avante garde rights, no matter how far apart, and never gave up." –Myra MacPherson, author of The Scarlet Sisters: Sex, Suffrage,and Scandal in the Gilded Age
"Crossing Swords is a terrific book—a fine blend of excellent writing and superior research. Safronoff's twined intellectual biographies of Mary Baker Eddy and Victoria Claflin Woodhull brings two very different women together, between the covers of one book. So very different and yet so alike, they cross swords in this masterful account." –Dr. Lorraine McConaghy, Public Historian, Seattle
"Crossing Swords is a fascinating analysis of a very modern–day theme: marriage vs. "free love" and the role of women in society. Ms. Safronoff has unearthed a gem of a story that still resonates today!" –Suzanne Venker, author of The Two-Income Trap: Why Parents are Choosing to Stay Home
A graduate of The Bush School, The Evergreen State College, and the University of Washington Genealogy and Family History program, author Cindy Peyser Safronoff combined her interests in historical research, female leadership, religious theology, and civic dialogs to explore this 1870s marriage debate. Safronoff currently divides her time between urban Seattle on the liberal Left Coast and suburban St. Louis, conservative crossroads of the Midwestern Heartland and the southern Bible Belt. This biregional lifestyle has helped her better understand the conflicting viewpoints within American culture explored in Crossing Swords. Safronoff has successfully climbed Mount Rainier with an all-woman climbing team, yet her work exploring female leadership at the highest level of empowerment has proved to be far more challenging even than climbing Rainier. With this work in women's rights comparing and contrasting two of the most powerful women leaders of the 19th century -- both often overlooked in American history, but nonetheless influential -- she hopes to climb to new heights.
Crossing Swords: Mary Baker Eddy vs. Victoria Claflin Woodhull and the Battle for the Soul of Marriage (This One Thing, July 4, 2015) is available on Amazon.com ( http://amzn.com/0986446106 ) or by special order through your favorite local bookstore. For more information, see http://www.Crossing-Swords.com or http://www.facebook.com/crossingswordsbiography.