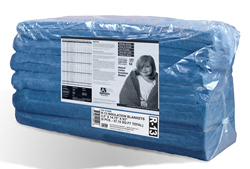 "Completion of the CCRR-0220 further reinforces Applegate's commitment to excellence by providing third-party validation that Cotton Armor Insulation meets all applicable parts of the IBC and IRC." Terry Applegate, President, Applegate Insulation
Webberville, MI (PRWEB) June 29, 2015
Applegate Insulation, Inc. is pleased to announce it has received its Code Compliance Research Report (CCRR) 0220 from Intertek-ATI for its Cotton Armor Insulation, R-2 through R-30. Applegate Cotton Armor insulation is a glass-free, non-woven insulation containing 85% recycled content.
Intertek-ATI is a global, independent agency ensuring products meet quality, health, environmental and safety standards for virtually any market around the world. Applegate Insulation's Code Compliance Research Report was conducted in accordance with ASTM E84, AC81 and ASTM E119-08a, while the R-13 / 3.5" blanket met a 1-hour rating for interior load bearing and exterior non-load bearing walls in a fire-resistant-rated, UL Design No. U344 listing assembly.
"We're excited to provide a competitive advantage to our OEM, construction and acoustic design industry customers," said Terry Applegate, President of Applegate Insulation. "Completion of the CCRR-0220 further reinforces Applegate's commitment to excellence by providing third-party validation that Cotton Armor Insulation meets all applicable parts of the IBC and IRC."
Architectural Testing's online Code Compliance Research Report can be viewed at: http://www.archtest.com/certification/Download.aspx?DocID=369&CN=cnCodeCompliance with details of Applegate Cotton Armor's evaluation.
About Applegate Insulation:
Established in 1978, Aaron and his son Terry Applegate began producing insulation out of a small facility in Okemos, Michigan. Today, Applegate (headquartered in Webberville Michigan), is the largest family owned cellulose insulation producer in the world, and supplies a variety of high-performance recycled insulation products throughout the United States. Applegate currently operates facilities in Michigan, Wisconsin, Pennsylvania, Kentucky, Georgia, Louisiana, and Colorado. For additional information regarding Applegate Insulation please visit http://www.applegateinsulation.com or call 800-627-7536.