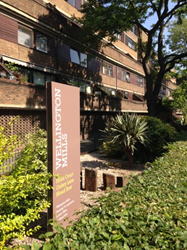 Did I say, lovely signs? Now I finally know where I am. Thanks, also to your patient designers at Signbox
(PRWEB UK) 30 June 2015
Earlier this month, Signbox completed a small but complex wayfinding project at the popular Wellington Mills housing co-operative in London, SE1. Originally the mill site of John Oakey & Sons Ltd, a manufacturer of abrasives and sandpaper, the estate has an extensive history and records show that in the 1700's a female orphanage stood on the site.
In 1970, architect Barbara Bienias was commissioned by the Greater London Council to create the separate buildings that make up the existing estate. The construction took 6 years and it has remained part of the housing co-operative ever since.
Signbox competitively tendered the signage project as part of a general improvements scheme underway at Wellington Mills. The bid involved the design, manufacture and install of a bespoke wayfinding solution to create an easier means of navigating the estate's buildings and surrounding spaces.
The core of the project called for a consistent wayfinding strategy throughout the estate by rationalising the quantity of signage.
The designs were subject to a review process by the housing association and relevant stakeholders. The feedback on Signbox's design submittals centred on the strong history of Wellington Mills and it was essential to retain key visual elements from the original typography and branding.
All the signs were fabricated by Signbox at their Egham workshops, constructed from powder coated aluminium to Pantone matched colours and finished with matt laminated external grade vinyl graphics.
Amanda Culpin, a resident of Wellington Mills commented, "Did I say, lovely signs? Now I finally know where I am. Thanks, also to your patient designers at Signbox."
Mark Bartlett, Signbox's Managing Director, comments: "It was inspiring to play a key role in the integrated rebranding project of Wellington Mills. We are proud to have supported a housing association with such a strong heritage."
UK-based Signbox is a leading signage specialist with over 30 years' industry experience. With intelligent design and application, the company consistently delivers award-winning visual communication strategies via traditional and pioneering signage methods across a number of market sectors, including corporate, education, healthcare, retail, hotel and leisure.