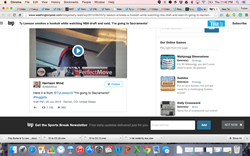 I'm going to Sacramento, bro
New York , NY (PRWEB) June 30, 2015
T-List believes the best way for brands to reach target audiences is through storytelling on social media. Through social media, people all over the world are sharing photos and videos in all aspects of life. T-List is ready to help brands truly tap in to this network. T-List not only creates unique stories to efficiently market brands, but it also keeps track of analytics for the critical elements of a brand's campaign to make sure that the story is reaching the optimum amount of viewers.
T-List is a platform that can connect top celebrities and brands to make a marketing dream. Denver Nuggets point guard, Ty Lawson, recently teamed up with Makren, a live stream app, to offer an exclusive first look and live stream confirmation of his transfer to Sacramento. While this video was streaming, a banner for Flatrate Moving® was displayed reaching millions of fans through live streams, Vine loops, and Twitter retweets.
T-List believes marketing today must be done differently, and the company has the tools to create more profit for celebrities while also giving brands wide viewing exposure that may not be possible through traditional marketing platforms. A free seven day trial of all the benefits that T-List offers can currently be claimed at http://www.tlistinc.com.
About T-List
T-List is an analytical marketing company dedicated to creating stories for marketing brands through social media with top influencers.