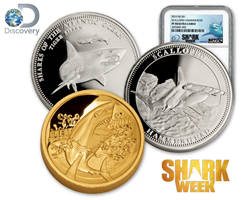 We are thrilled to partner with Discovery to bring viewers and collectors worldwide this exclusive offering of Shark Week coins. Fans can now savor the thrill of Shark Week with pure precious gold and silver coin that will last for generations
Minneapolis, MN (PRWEB) June 29, 2015
GovMint.com and Discovery Consumer Products, the licensing arm of Discovery Communications, announced today the first official Shark Week coins—legal-tender coins struck in copper-nickel, silver and pure gold. This first-ever Shark Week coin series, available now on http://www.GovMint.com/sharkweek, spotlights three of the oceans' most formidable predators: The Great White, Scalloped Hammerhead and Tiger Shark.
The government of Australia has authorized the Great White Shark coin, issued in stunning high relief one-ounce gold and silver proofs. Fiji has issued a 99.9% pure silver one-ounce Hammerhead Shark coin, while the Atlantic island nation of Tristan da Cunha is issuing a One Crown denomination Tiger Shark coin in one-ounce of pure silver, a silver-plated copper-nickel coin and a quarter-ounce Gold proof coin. Each of the countries that issue these proofs are no strangers to the powerful sharks in their seas. In fact, all are located near shark-filled waters and represent just some of the many places in the world these sharks can be found.
"We are thrilled to partner with Discovery to bring viewers and collectors worldwide this exclusive offering of Shark Week coins," said Bill Gale, founder of GovMint.com. "Fans now have the opportunity to savor the thrill of Shark Week with pure precious gold and silver keepsakes that will last for generations."
Discovery Channel's Shark Week, television's longest running must-see summer TV event, returns on July 5 for its 28th consecutive year.
About GovMint.com®
Since 1984, GovMint.com has been one of the world's leading sources of collectible coins. Headquartered in Minneapolis, MN, GovMint.com is an official distributor for seven major world mints and offers collectible coins from over 120 countries. Govmint.com has four offices in the U.S. More information at http://www.GovMint.com or call 800-642-9160.
About Discovery Communications
Discovery Communications (Nasdaq: DISCA, DISCB, DISCK) is the world's #1 pay-TV programmer reaching nearly 3 billion cumulative subscribers in more than 220 countries and territories. For 30 years Discovery has been dedicated to satisfying curiosity and entertaining viewers with high-quality content through its global television brands, led by Discovery Channel, TLC, Animal Planet, Investigation Discovery, Science and Turbo/Velocity, as well as U.S. joint venture network OWN: Oprah Winfrey Network. Discovery controls Eurosport, the leading pan-regional sports entertainment destination across Europe and Asia-Pacific. Discovery also is a leading provider of educational products and services to schools, including an award-winning series of K-12 digital textbooks, through Discovery Education, and a digital leader with a diversified online portfolio, including Discovery Digital Networks. For more information, please visit http://www.discoverycommunications.com.