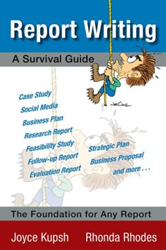 "Anyone who writes any type of report will benefit from this book."
Pomona, CA (PRWEB) July 02, 2015
Employers continue to say that written and oral communication skills are the most important skills for employees. In a competitive job market, prospective employees need every advantage possible.
Report Writing: A Survival Guide, by Joyce Kupsh and Rhonda Rhodes, presents the basics for writing any kind of report, such as research reports, proposals, case studies, business plans, technical reports, feasibility studies and more. Both novice and experienced writers will benefit from the book. Checklists are included to assist writers in perfecting their reports.
The book includes chapters on:
Organizing: purpose, types and formats
Starting: planning, researching, referencing and avoiding plagiarism
Writing: objectivity, conciseness, coherence, emphasis and variety
Polishing: abbreviations, acronyms, punctuation and spelling
Producing: fonts, color, paper, layout and graphics
Finishing: editing and proofreading
"Anyone who writes any type of report will benefit from this book," Kupsh says. "In addition to writing style, the design of the report is also covered. We originally wrote the book for our students, but soon realized that people in the business world could also benefit from the book."
"You can do better," Rhodes says.
Report Writing: A Survival Guide
By Joyce Kupsh and Rhonda Rhodes
134 pages
ISBN 9781450068925
Available at Amazon and Barnes & Noble
About the authors
Joyce Kupsh, Ed.D. is a Professor Emerita at California State Polytechnic University, Pomona. She has published books, articles and conducted many workshops/seminars throughout the U.S. and six other countries. She currently serves on the Board of Directors for three companies and is involved in consulting.
Rhonda Rhodes, Ph.D is a Professor of Technology and Operations Management at California State Polytechnic University, Pomona. She researches, publishes and presents in the U.S. and internationally. She has owned a computer sales and training facility and is currently employed as a consultant on technology and proposal writing.