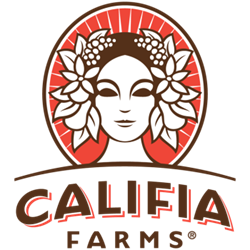 Choosing to go dairy-free shouldn't mean living a dessert-free life. Califia is all about celebrating joyful, healthy refreshment in a completely unique way.
New York, NY (PRWEB) June 29, 2015
Califia Farms, the fastest-growing natural beverage company, is making summer sweeter for lactose-intolerant and dairy-free ice cream lovers with specially-formulated, plant-powered, dairy-free frozen dessert recipes. From cinnamon vanilla milkshakes to coconut vegan ice cream, Califia Farms' easy-to-make summer cool-down recipes promise to deliver great taste and refreshment to the millions who choose to go dairy free.
There is a rising trend of Americans opting for plant-based, non-dairy products for varied reasons – whether they are lactose-intolerant, prefer the taste or want to eat fewer animal-based products. According to a recent Mintel report, sales of non-dairy milk were up 93.8% from 2009 to 2014. Califia Farms, well known for its popular Almondmilks, cold brew coffees, citrus juices and Latin-inspired Aguas Frescas and Horchatas, is leading this revolution.
Plant-based dairy now accounts for 20% of dairy case sales and is growing rapidly. And many of these consumers are not just drinking plant-based milk, they are also cooking with it.
"Regardless of why you choose non-dairy over traditional cow's milk, we think everyone should be able to enjoy a healthy, great tasting 'ice cream' treat this summer," said Greg Steltenpohl, Califia Farms' CEO. "Choosing to go dairy-free shouldn't mean living a dessert-free life. Califia is all about celebrating joyful, healthy refreshment in a completely unique way."
In keeping with America's evolving palate, Califia Farms' frozen desserts take their cues from the authentic flavors of Latin America. Interestingly, Hispanics are embracing plant-powered, non-dairy milks at a greater rate than any other group. And, according to Mintel, three in five Hispanic consumers drink non-dairy milk, with half of Hispanics surveyed agreeing that non-dairy is healthier than dairy milk.
The cool and refreshing recipes that can be found on http://www.califiafarms.com include:

Packed with flavor, Califia Farms plant-powered beverages are like no others on the market and use only the finest ingredients and artisanal processes to achieve guilt-free deliciousness. They have received numerous awards not only for their taste but also for their packaging: a chic, modern design reminiscent of classic milk bottles.
Califia Farms will be sampling its award-winning plant-powered beverages at the Summer Fancy Food Show being held June 28-30 at Javits Center, New York in booth #3265.
About Califia Farms (pronounced "Cal-lih-FEE-ya," like California)
Inspired by the bounty of California, Califia Farms' mission is to innovate delicious plant-powered foods for mindful nourishment. The company was named a 2015 "Breakout Brand" by Beverage World and tripled its revenues in the almond milk category from 2013 to 2014 and is a leader in the revolution to de-commodify the food and beverage industry by creating innovative, healthy and great-tasting premium beverages that make it easy for consumers to go 'plant-powered' and dairy-free, without compromise. Founded in 2010 by a farmer's co-operative based in the San Joaquin Valley and headed by beverage visionary Greg Steltenpohl, Califia Farms is a uniquely California company. Its Bakersfield, Calif. manufacturing plant uses artisanal processes to create healthy and delicious plant-based beverages, is eco-friendly, energy efficient and repurposes more than 90 percent of its post-production byproduct. Califia Farms is the fastest-growing natural beverage company in the U.S., as well as the leading brand in the natural products coffee drinks category.
Califia Farms Media Relations
Melanie Webber, mWEBB Communications, (949) 307-1723, melanie(at)mwebbcom(dot)com
Elizabeth Johnson, mWEBB Communications, (213) 713-4865, elizabeth(at)mwebbcom(dot)com