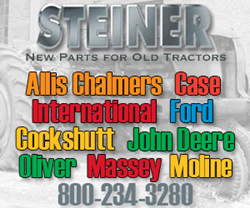 In the old days all parts were drawn by hand. Wooden cores were made by hand. Staff manually operated the Bridgeport and horizontal mills by hand along with the lathe.
Lennon, Michigan (PRWEB) June 29, 2015
Imagine having painstakingly taken apart an antique tractor and sandblasted and painted every piece, then re-assembling paying attention to detail and ensuring every piece looks just like it came from the factory fifty years ago. Then, stumbling across a fundamentally broken tractor part and being left with only two, equally imperfect options: try to fix it knowing it won't ever be able to operate at maximum efficiency or go hunting a used or new old stock part which may be impossible to find in good condition or incredibly pricey. This is exactly where Dan Steiner and the staff of Steiner Tractor Parts step in to save the antique tractor restoration. Dan & his staff are using cutting edge technology like a 3D printer, CAD software, an x-ray spectrometer for materials analysis and other high tech tools for detailed measurements to keep the antique tractor restoration hobby alive.
The product development team identifies problem parts needed by antique tractor owners which are unavailable new or used or at reasonable prices. Then, the engineering staff sets about figuring out exactly how they are made and producing the blueprints necessary to make them in today's modern factories. Working with a global supply chain has its share of difficulties and Steiner Tractor Parts strives to use American labor and American factories whenever feasible for a project.
"In the old days all parts were drawn by hand. Wooden cores were made by hand. Staff manually operated the Bridgeport and horizontal mills by hand along with the lathe. Today, parts are drawn in Solid Works. Then math data is sent to the 3D printer to make a plastic prototype. After approval of the prototype, the files are sent to manufacturers who use the math data to program the CNC mills, lathes, laser cutters, plasma jets, water jets and other computer operated equipment. As a result the parts have much tighter tolerances and less variation. The quality is improved and the efficiencies reduce cost. Many people do not realize it, but the volume of manufacturing in America is larger than it has ever been. However, it is done with far less labor due to the use of robots and computer controlled equipment," explains Dan Steiner, President of Steiner Tractor Parts.
Steiner Tractor Parts is committed to continuing to serve the tractor restoration community. The work does not stop at simply developing and designing the products, the company also conducts their own quality assurance for each part that is produced. In addition, they provide written and video documentation to customers to help them install the parts and fully complete their restoration project. The dedicated staff at Steiner Tractor Parts seeks to provide superior quality parts and superior customer service.
About Steiner Tractor Parts
Steiner Tractor Parts specializes in restoration quality parts for American made farm tractors. They are an integral part of a larger community committed to preserving our agricultural heritage. Their role is providing obsolete components for Allis Chalmers, Farmall, International, Ford, John Deere and Massey Ferguson among others. Areas of specialty include manifolds, wheels, lights, switches, mufflers, battery boxes, fenders, steering wheels, carburetors, gauges, and more. They have a state of the art website and ship worldwide every day. To see the full product listing and E-Catalog, visit online at http://www.SteinerTractor.com. Also, be sure to check out their selection of free tractor repair videos at http://www.SteinerTractor.TV.